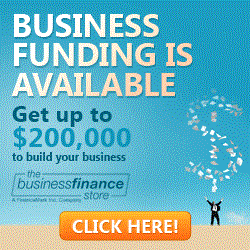 Funding is Available at Business Finance Store
Santa Ana, Calif. (PRWEB) July 31, 2013
Success in Motion, LLC, has done what many organizations have done in the past. They have worked with the group of attorneys and MBAs at the Business Finance Store in Orange County, Calif. to obtain nearly $95,000 in funding to move one-step closer to the realization of their business goals. One of which is to help other potential small business owners find the same success.
The franchise-consulting firm offers free services to help interested buyers identify the right franchise or small business for them. Using a franchise consultant, future franchisees have a better chance of selecting the right business opportunity to fit their personal, professional, financial, and lifestyle goals. Ultimately, this saves time, energy, and money, as well as frustration.
Many potential new franchise owners do not realize what it takes to own and operate a business. Experts in the field routinely recommend doing the necessary research before investing in a new franchise or small business. That is where Success in Motion comes in. Learning directly from those who know can help eliminate or at least minimize any potential pitfalls.
As members of the Franchise Brokers Association (FBA), all Success in Motion franchise consultants have in-depth training in areas such as legal, industry, client, profitability, and franchising. They offer the kind of skills necessary to help others make the right choice and become successful franchise owners.
The Business Finance Store is a business financing and consulting firm that offers customized Business Financial Solutions. Seasoned professionals offer assistance in a variety of financial solutions to help small businesses succeed such as: Business Financial Solutions, Legal Solutions, and Accounting Solutions.
For 10 years The Business Finance Store has been helping startups and other small businesses legally structure their companies, find the right franchises, get the funding they need, and achieve the American dream of owning their own successful business. Since expanding nationwide in 2007, they have helped thousands of companies and have funded over $100 Million in business credit lines, not including SBA loans. The Business Finance Store sees limitless potential in the current climate, and looks forward to many strong years of growth to come.
For more information, or a free, no-obligation analysis of your business needs, visit The Business Finance Store website: http://www.businessfinancestore.com.