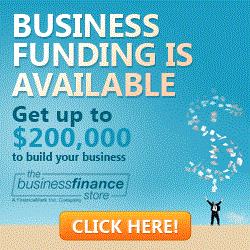 Funding is Available at Business Finance Store
Santa Ana, CA (PRWEB) August 08, 2013
A tutoring center known as A Jewel of Wisdom recently contacted the California-based Business Finance Store to ask for help finding the right financing. In turn, the Business Finance Store secured nearly $100,000 to help the Florida-based learning center further fund their proficiency training operation.
A Jewel of Wisdom focuses on improving skills in language, math, and reading for students in kindergarten through the 12th grade. Additionally, the learning center works with ESL (English as a Second Language) and LD (Learning Disability) students.
The center offers individual as well as group tutoring at a wide variety of locations, from community centers and business offices to school campuses and even in the student's own home. Any location that is convenient for the student.
Similarly, the Business Finance Store works with entrepreneurs and small businesses anywhere across the nation to help them get the funding they need to launch and grow their business. With nearly 15 years in the finance industry and a thoroughly developed network of financial institutions at the ready, the Business Finance Store can identify the right financing source a new business needs to get an idea off the ground.
The Business Finance Store is a business financing and consulting firm that offers customized Business Financial Solutions. Seasoned professionals offer assistance in a variety of financial solutions to help small businesses succeed such as: Business Financial Solutions, Legal Solutions, and Accounting Solutions.
For 10 years, The Business Finance Store has been helping startups and other small businesses legally structure their companies, find the right franchises, get the funding they need, and achieve the American dream of owning their own successful business. Since expanding nationwide in 2007, they have helped thousands of companies and have funded over $100 Million in business credit lines, not including SBA loans. The Business Finance Store sees limitless potential in the current climate, and looks forward to many strong years of growth to come.
For more information, or a free, no-obligation analysis of your business needs, visit The Business Finance Store website: http://www.businessfinancestore.com.