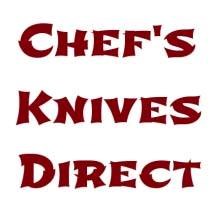 (PRWEB) November 27, 2013
Arvin Hill and Karen Bell are excited to announce the creation and launch of their new website venture, http://www.ChefsKnivesDirect.com. The website offers a broad assortment of chef's knives for the kitchen including paring knives, cleaver knives, ceramic knives, fillet knives, as well as full knife block sets and accompanying sharpening steels. Hill is a retired chef who is passionate about food preparation and who knows that proper knife selection, as well as proper use and care of knives, is extremely important when it comes to preparing meals and snacks.
There are many excellent knives available within the merchandise of ChefsKnivesDirect.com. Knives from some of the best brands in the industry such as Henckels and Victorinox knives are prominently featured on the website. In the future, Hill and Bell intend to further expand the product lines offered on the website, as well as add entire lines of bakeware, cookware, cutting boards, and everything else that one might need in the kitchen.
Customer service is of the utmost importance to Hill and Bell regarding each and every transaction made on ChefsKnivesDirect.com. They feature 100% satisfaction guaranteed on all products, 100% secure online ordering, free shipping over $50, and a very competitive shipping rate under $50, as well as the lowest prices possible.
To complement the main website, Hill and Bell are also launching a blog located at http://www.KnivesDirectBlog.com. The blog will feature topics related to proper knife use, finding the right knife for a certain job and overall knife selection, knife care, as well as recipes and reviews that are related to the products offered in the online store. Hill and Bell intend to use the blog posts they write to guide customers towards making informed decisions when purchasing products on the website.
About the Company:
ChefsKnivesDirect.com -- a division of AK Marketing, Inc. -- is owned and operated by Web entrepreneurs Arvin Hill and Karen Bell.
****
Arvin Hill and Karen Bell
http://www.ChefsKnivesDirect.com
(519) 342-6584
iePlexus, Inc.
http://www.iePlexus.com