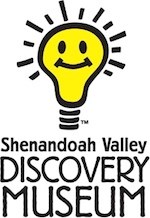 Offering Generational Learning for all Ages
Winchester, Virginia (PRWEB) August 28, 2013
The Shenandoah Valley Discovery Museum (SVDM) will be moving into a building next spring that will offer more than four times the space it currently has; offering generational learning experiences for all ages. The new location in Winchester, Virginia is 19 West Cork Street, formerly housing the Schewel Furniture Company for fifty (50) years.
"Our mission is to provide a stimulating learning environment which is self paced - hands on.  It is our goal to promote families learning together - 'share the joy of learning'. We give the children the control of their own discovery and their own learning. As the discovery process unfolds, the children progress where their interest take them," said Mary Braun, Executive Director of Shenandoah Valley Discovery Museum.  
The Shenandoah Valley Discovery Museum has been a staple of downtown Winchester since 1996, serving over a half million visitors. With a goal to provide childhood educational opportunities, the Museum helps to foster a foundation for a lifetime of future learning. Serving as a regional community museum in the northern Shenandoah Valley, the bulk of SVDM visitors come from VA, WV, MD, and PA, but the museum also has international and national tourists. Western Loudoun County is the largest demographics outside of Winchester/Frederick County.
"Thanks to a generous gift from J.J. Smith, we're able to pursue this project," Braun said. "That coupled with gifts from the city and the county, both of $500,000, have made this expansion possible."
The future museum will stretch across three floors and the rooftop area encompassing nearly 20,000 square compared to the one floor current museum of 4,600 square feet. "Shenandoah Valley Discovery Museum's goal is to be THE destination for learning, imagination, and roof top gatherings, through its many new exhibits that will engage children, their parents and their grandparents in novel and exciting ways," said Braun.
With a planned opening date of Spring 2014, the renovated children's museum will feature a triceratops, an updated medical area including a recently retired ambulance donated by Valley Health, a science kitchen laboratory, the old museum's Native American lodges, a creator-in-residence studio, and a paleontology section. There will also be a rooftop garden which will be the new nightlife of Winchester and hopes to be the area's unique venue.
"The first floor is about encountering the museum and the second floor is all about action. It will contain areas focused on watershed and erosion, roller coasters, climbing walls and the popular apple packing shed, which will be brought over and updated from the old museum. It is where children can learn about simple machines like pulleys, levers, apple orchards and farming," said Braun.
Nathan Webb, project architect with Reader and Swartz said the museum's move has been ten years in the making. "Very much a work in progress, the new space began as a cold brick and concrete shell. The rooftop was a 3,000 foot gravel surface without guardrails, but soon will include a bandstand pavilion to accommodate events and ceremonies, even weddings. Colorful shade sails will make the space inviting, he said, even in the harsh summer sun," said Schwartz.
"Go Blue Ridge Travel is excited to add this project to the launch of the Shenandoah Valley Kids Trail Spring 2014. A project supported by eight partners in the Shenandoah Valley will launch an eighteen month marketing program focusing on family activities in the Shenandoah Valley," said Nancy Craun, founder and owner of Go Blue Ridge Travel.
About GoBlueRidgeTravel.com
Founded in 2011, GoBlueRidgeTravel.com (GoBRT), a division of Encore Event Partners is the only regional website showcasing the activities, events, and accommodations in the Blue Ridge Mountains and northern Shenandoah Valley. With a ten year relationship of marketing the region to brides for their wedding destinations, GoBRT is now reaching out to families branding the trademark 'GoBRT's Kids Bucket List' showcasing the experiences tots to teens should have prior to turning eighteen in the valley. Covering Virginia and West Virginia, Go Blue Ridge Travel's goal is to brand this 100 mile radius as a travel and wedding destination both nationally and internationally.
Contact: Nancy Craun, Founder and President , GoBlueRidgeTravel.com
Phone: 540.533.1853 Email: info(at)GoBlueRidgeTravel(dot)com