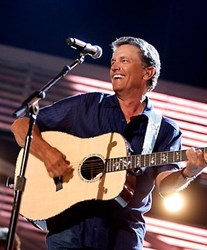 (PRWEB) November 10, 2013
For the first time since 1990, George Straight won not only one Country Music Award Wednesday night, but three. He took away the highest honor of the night, winning Entertainer of the Year. Unfortunately for his fans, the 61-year old country star will be retiring from the road as he completes his The Cowboys Rides Away tour. His final tour will begin in January 2014 in Louisiana, and will go until the end of May, finishing up in Foxborough, Mass.
There was no clear favorite on the night at the 2013 Country Music Awards, as multiple artists won multiple awards. Blake Shelton, Keith Urban, Taylor Swift, Tim McGraw, and Florida Georgia Line all represent those who won two awards each.
The Pinnacle Award at the 47th annual Country Music Awards show went to the star studded, Taylor Swift. This prestigious awards goes to artists that bring their music to a worldwide audience. The previous winner was back in 2005, and it went to Garth Brooks. The 23 year old will be taking her talents to London in 2014, but will she tour in the US? Swift will also finish 2013 by performing in Australia and New Zealand, which further credits her Pinnacle award. Her 'Red' album has already showed across the country, but Taylor Swift fans would never turn down another great show. Only time will tell!
Blake Shelton and Miranda Lambert
Will other Country Music Awards 2013 winners take their talents to the stage in 2014? Country singer Blake Shelton, who won entertainer of the year last year, took home the male vocalist award as well as the album of the year. He has overall won a total of eight CMA Awards, and his wife, Miranda Lambert also took a trophy home. The country star won female vocalist of the year, matching her husband Blake. Shelton, who is a current coach on, The Voice, has a few shows scheduled for 2014, but no tour. There have been suggestions of the couple touring together in the future, but no dates have yet been set. Will you be there to see Blake and Miranda perform together? Visit Ticket Monster to purchase your tickets when the time arrives.
Luke Bryan and Florida Georgia Line
Artists Luke Bryan and Florida Georgia Line both performed at the 2013 CMA's. These two, luckily for fans, will be performing their respective tours in 2014. Luke Bryan will perform his That's My Kind Of Night Tour which will begin in January and run until March. Luke Bryan tickets can be found at http://www.Ticketmonster.com, along with Florida Georgia Line tickets. The new band will be touring joining Jason Aldean on his Night Train Tour in 2014, which will be played from January to the end of February.
Ticket Monster is the number one stop to find tickets to all the top concerts. When they are sold out on other sites, Ticket Monster will come to the rescue. Not only does Ticket Monster always have tickets for sale, but they are offered at the lowest prices on the web. Beyonce, Bieber, and Justin Timberlake are just some examples of the many concerts Ticket Monster provides for its customers. Visit Ticketmonster.com for more details.