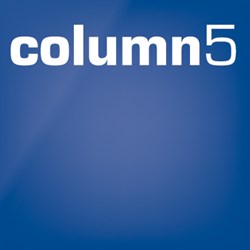 Our 4th consecutive appearance on the Inc.500|5000 list is a true testament to the quality of our team.
Scottsdale, AZ (PRWEB) August 26, 2013
For the fourth consecutive year, Column5 Consulting has been named to the Inc.500|5000 list of the fastest-growing private companies in the United States with three-year sales growth of 63 percent. Column5 also ranked in the top 500 fastest-growing IT services companies in the nation and placed in the top 10 in its industry in the Phoenix metro area.
"Our fourth consecutive appearance on the Inc.500|5000 list is a true testament to the quality of our team, and our ability to sustain increasing revenue over time," said David Den Boer, Column5 founder and CEO. "Column5 has the very best talent in the market, and our resources are highly sought after due to their reputation for consistently delivering high value solutions for the world's leading companies."
The Inc.500|5000 list represents the most comprehensive look at the most important segment of the economy—America's independent entrepreneurs. Column5 Consulting joins LivingSocial, Edible Arrangements, CDW and Lifelock, among other prominent brands featured on this year's list. In a stagnant economic environment, median growth rate of 2013 Inc. 500|5000 companies is an impressive 142 percent. The companies on this year's list report having created over 520,000 jobs in the past three years, and aggregate revenue among the honorees reached $241 billion. Since 2007, Column5 has grown revenues by more than 500 percent and increased its employee roster by more than 440 percent.
"Not all the companies in the Inc. 500 | 5000 are in glamorous industries, but in their fields they are as famous as household name companies simply by virtue of being great at what they do. They are the hidden champions of job growth and innovation, the real muscle of the American economy," says Inc. Editor Eric Schurenberg.
As an enterprise performance management consulting firm, Column5 helps C-level executives and financial teams plan and manage their businesses with a wide array of planning, budgeting, reporting and other performance management software applications and services.
"Column5's mission as we grow is to embrace the same solutions and processes that we help our clients implement. Specifically, enable a tighter connection between our longer term strategic aspirations and our day-to-day tactical execution in alignment with those goals; expand the distribution of critical data needed by all decision makers in our enterprise; and finally increase the frequency of our planning and reporting cycles to equip managers with up to the minute information," said Den Boer. "As we progress, our perspective on the best practices we recommend for our much larger Global 1000 clients is becoming very much a personal story about our first-hand experience growing Column5."