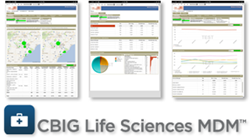 Chicago, IL (PRWEB) October 24, 2013
Early this week, CBIG announced the rollout of its CBIG Life Sciences MDM™ Solution – Version 2.0 to improve customer master data management (MDM) practices within pharmaceutical, biotech and medical device business sectors. CBIG Principal Don Arendarczyk stated that CBIG's concentrated work for several large pharmaceutical clients within this specific market segment was the catalyst that led to CBIG's more refined methodology and approach.
Arendarczyk noted that these businesses are increasingly buying large data sets from third party data vendors in order to gain better insights to their customers in the medical field. "Trying to reconcile and filter ten or even twenty different data sets into one single master source means that preserving and protecting data integrity has suddenly become a lot more complex," he explained. "In really simplified terms, one of our goals is to help our clients and sales teams quickly understand which health care professionals are writing prescriptions for their products and their competitor's products."
Arendarczyk added that CBIG's evolved 2.0 Life Sciences MDM solution is based on best-of-breed software combined with CBIG's proven MDM methodology. The toolsets today employ algorithms that match and filter doctor data much faster, better, and cheaper than even a couple of years ago. Working in tandem with these improved calculations, Arendarczyk said the CBIG Life Sciences MDM™ Solution applies appropriate governance practices, business process rule sets, and technology platforms to establish an adaptable, single master source of customer information to enable more accurate customer relationship management and reporting.
About CBIG Consulting (CBIG):
CBIG Consulting, a division of Chicago Business Intelligence Group, Inc., is an international team of experts in Data Warehousing, Business Intelligence, Big Data Analytics, and Cloud-based Analytics platforms. CBIG consultants average fifteen years of direct experience in the field working with global enterprises, mid-size businesses, and non-profit organizations in solving mission-critical reporting and analytical needs. CBIG is headquartered in the Chicago, IL area, and has additional offices in San Francisco, CA, Boston, MA, Denver, CO, Austin TX, and Sydney, NSW, Australia. For more information, please visit http://www.cbigconsulting.com