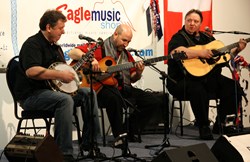 Visitors to the workshop seminars and concert will have the chance to rub shoulders and meet the makers of the worlds finest banjos
Huddersfield, West Yorkshire (PRWEB UK) 25 September 2013
The UK and Europe's award winning banjo shop, Eagle Music, are said to be delighted about the forthcoming visit of such world class banjo icons to celebrate their seventh year as the number one dealership for the California based USA Deering Banjo Company, who are the makers of Goodtime, Deering, Tenbrooks and Vega Banjos.
The Banjo Seven event will be a day of world class performances and workshops from The Kruger Brothers featuring Jens Kruger, the banjo maestro who has recently been awarded the Steve Martin 2013 award for excellence in Banjo and Bluegrass Music. The Down County Boys, the UKs longest established Bluegrass Band. Edinburgh based Rob MacKillop, musician, classic banjo specialist and author of 'Early Classics for Banjo' and 'Early Irish American Banjo'. Northern Englands amazing 'Kentucky Cow Tippers', 'The Old Grey Dogs' and much more throughout the day.
Eagle Music Shop founder Steve Noon commented, "As a UK banjo specialist shop, we are humbled and honoured to have reached such a recognised status in the banjo world, selling more banjos than any other retailer in the entire world. We are delighted to host such a high profile banjo event here in the UK and provide the opportunity for banjo enthusiasts to meet some of the worlds greatest icons in the banjo community."
"Visitors to the workshop seminars and concert will have the chance to rub shoulders and meet the makers of the worlds finest banjos and also personally interact with some brilliant musicians throughout the day, including one of the worlds finest banjo players, Jens Kruger," Steve Noon added.
The event will commence with tea and coffee at around 11:00am and continue throughout the day with on stage workshops and performances. The day will finish near to midnight following the grande finale concert from the world class Kruger Brothers.
For more details and to buy tickets for the Banjo Seven 2013 event, please follow this link: http://www.eaglemusicshop.com/blog/banjo-seven-event-2013-with-deerings-and-kruger-brothers.
Company information: Eagle Music is established as the UK and Europe's largest acoustic stringed instrument specialist and banjo shop. The Huddersfield based company is the select dealership for Mainland USA and Ohana Ukes. Eagle are the world's number one dealership for the Deering Banjo Co. USA. The selected Premier banjo shop for OME, Prucha, Stelling and Gold Tone. Eagle are presently and have also been the officially appointed UK main dealership for Nechville Heli-Mount Banjos for the past five years.
Musician and founder Steve Noon has celebrated more than 40 years in the musical instrument business both as a professional banjo, mandolin, guitar and ukulele player. He is the present folk instrument consultant for The Tanglewood Guitar Company and a prolific collector and respected UK authority on vintage banjos and acoustic stringed instruments.
For Deering Banjos, visit http://www.eaglemusicshop.com.
Contact:
enquiries[at]eaglemusicshop[dot]com
Phone: +44 (0)1484 661460
Eagle Music Shop
1 St Pauls House
Brooke's Mill
Armitage Bridge
Huddersfield
West Yorkshire
HD4 7NR, UK