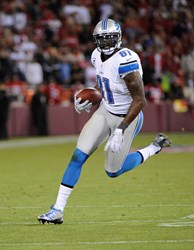 Detroit, MI (PRWEB) September 24, 2013
If you are a Detroit Lions fan, then you probably experienced history being made this weekend by your favorite team. 2013 could be a breakout year for the Lions, and fans from all over can watch it live. Visit http://www.Lions-Tickets.net to find out how.
On September 22, 2013, the Detroit Lions football team defeated the Washington Redskins in Washington for the first time in over 70 years. With big plays from Calvin Johnson, Matthew Stafford, and Nate Burleson, and 4th quarter mess-ups from the Redskins, the Lions defeated Washington by a score of 27-20.
One play that prevented the Redskins from scoring was RGIII's fumble. The quarterback went head first rather than sliding, and when he let go of the ball it was considered a fumble. The all-star rookie from 2012 should have known better, but has perhaps not been playing quite like himself since his ACL surgery last year. Another Redskins failed play that helped the Lions to victory was when Aldrick Robinson had a touchdown catch in his hands, but could not maintain possession as he hit the ground. The officials reviewed, and it was not a touchdown.
The last time the Lions beat the Redskins on the road was in 1935, when the team was still the Boston Redskins. The 21 game winning streak for Washington was the second longest in NFL history.
Lions quarterback Matthew Stafford threw a pair of touchdowns as he helped lead his team to victory. He threw for 385 yards and completed 25 of 42 passes, with one interception. Lions star Reggie Bush was out with an injury, so fellow teammate Joique Bell started in his place. Bell totaled 132 yards and had one touchdown. Wide receiver Calvin Johnson caught seven passes for 115 yards and also had one touchdown. The win was a great recovery from the team's lost last week to the Arizona Cardinals. In their first game of the season, the Lions defeated the Minnesota Vikings 34-24. Their record is now 2-1, and after posting only 4 wins last year, it looks like Detroit is off to a great start. The Lions will play next Sunday at home against the Chicago Bears. The two teams did not meet last year, but Detroit is sure to have their hands full, as the Bears are 3-0 so far in 2013.
Redskins quarterback Robert Griffin III threw for 326 yards and completed 32 of 50 pass attempts. He also had an interception and a fumble, which most likely cost his team the game. The Redskins will face the Raiders next week as they try to win their first game of the 2013 NFL season.
Conclusion:
To purchase a ticket to a Detroit Lions football game this season, visit http://www.Lions-Tickets.net. Fans that visit the site can find the best prices on Lions Tickets and take advantage of the Lions social media fan hub, where they can connect and engage with friends and other fans! Lions-tickets.net is the best place to find the lowest prices for Lions football tickets, and the site will never charge you any service fees. It also has an easy read Lions schedule. Visit today.