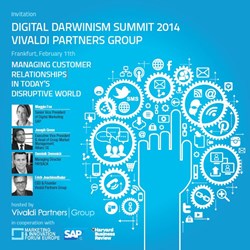 Munich, December 10, 2013 (PRWEB) December 10, 2013
SAP today announced its sponsorship of the Vivaldi Digital Darwinism Summit on "Managing Customer Relationships in Today's Disruptive World." The summit is an annual event hosted by Vivaldi Partners Group. This half-day summit will take place on February 11th at 8:00 am in Frankfurt, Germany and kick off the two-day Marketing and Innovation Forum Europe 2014 event. The summit is a forum for senior executives to explore the challenge for brands and businesses in leveraging digital, social, Big Data and mobile technologies to create new customer value and strengthen customer relationships.
Keynote presentations include:

Maggie Fox, Senior Vice President of Marketing at SAP
Joseph Gross, Executive Vice President & Head of Group Market Management at Allianz SE
Dominik Dommick, Managing Director at PAYBACK
"SAP has long been a market and technology leader on the forefront of helping companies of all sizes to manage their customer relationships. I am excited to partner with SAP for this year's Digital Darwinism Summit," said Erich Joachimsthaler, Founder and CEO of Vivaldi Partners Group and one of the event's speakers. "I am eager to discuss with colleagues how marketers will need to adapt in order to survive in today's always-changing and always-on business landscape."
For more information and to download the brochure, visit: http://vivaldipartners.com/blog/digital-darwinism-14 To register directly, visit: http://www.amiando.com/digitaldarwinism2014.
About Vivaldi Partners Group
Vivaldi Partners Group (http://www.vivaldipartners.com) is a global firm that unlocks innovation and growth opportunities for brands and businesses in a digitally connected world. Vivaldi uses its well-known expertise in deeply and profoundly understanding customers, consumers and brands to identify new growth opportunities, build strong brands, create and realize engaging experiences, and lead change through the development of people. Vivaldi Partners Group comprises of Vivaldi Partners, Fifth Season, a digital, design and technology agency, and E-Edge.
About SAP
Headquartered in Walldorf, Germany, with locations in more than 130 countries, SAP AG is the world leader in enterprise software and software-related services. Explore our 40-year history of innovation – and access late-breaking company news, financial and investor information, career opportunities, and more.