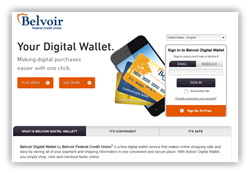 Woodbridge, VA (PRWEB) November 07, 2013
Belvoir Federal Credit Union launched 'Belvoir Digital Wallet' by MasterCard® with MasterPass, which offers online consumers the ability to have a safe, convenient, and easier way to checkout from the over 20,000 online merchants where MasterPass is accepted.
With the Belvoir Digital Wallet, online consumers will be able to connect into the MasterPass Acceptance Network with innovative API (Application Programming Interface) technology that gives the digital wallet the flexibility to grow as the shoppers' needs grow. MasterPass' API also enables purchasers to plug into their digital wallet to leverage check-out, fraud detection, authentication, and other value-added services.
The Belvoir Digital Wallet stores card information and shipping addresses in a secure environment. When buyers check out online, the purchaser signs in with a secure message (with the option of mobile verification), confirms payment and shipping information, and checks out without reentering all of the payment data. For more information about the Belvoir Digital Wallet, visit http://www.belvoircreditunion.org/eservices/belvoir-digital-wallet.
MasterPass by MasterCard®, which began in 2012, stores all your payment and shipping information in one location. MasterPass was chosen due to their comprehensive plan moving forward to utilize the various technologies such as QR codes and Chip Technology to ensure the MasterPass wallet is accepted online and at point of sale. For more information, visit http://www.masterpass.com/Wallet/Home.
About Belvoir Federal Credit Union
Belvoir Federal is a member-owned, full-service financial institution that provides the foundation for the financial success of our Members. Belvoir Federal, a not-for-profit organization, has served the Fort Belvoir and U.S. Armed Forces community since 1946. For more information about Belvoir Federal, please visit http://www.BelvoirCreditUnion.org.
###