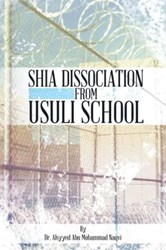 JOHANNESBURG, South Africa (PRWEB) December 20, 2013
In the new book from author Alsyyed Abu Mohammad Naqvi, "Shia Dissociation from Usuli School" (published by AuthorHouse), the historical conflicts, origins and beliefs of the Islamic Usuli Shia sect are analyzed to bring light upon current religious issues in Iran.
Thorough research and dissertation exemplify Naqvi's assertion that the religion practiced by the Iranian government is not true Shia Islam, but something entirely contradictory to the beliefs of Allah, the Infallibles and Muslims.
Naqvi illustrates major historical and political events to support his argument, citing the founding of the Usuli Shia sect 1,000 years ago and the rejuvenation of the Usuli Shia sect by Allama Hilli – the first Islam to adopt the title of Ayatollah, something forbidden in traditional Islam.
"Shia Dissociation from Usuli School"
By Dr. Alsyyed Abu Mohammad Naqvi
Hardcover | 6 x 9 in | 246 pages | ISBN 9781491886434
Softcover | 6 x 9 in | 246 pages | ISBN 9781491886427
E-Book | 246 pages | ISBN 9781491886441
Available at Amazon and Barnes & Noble
About the Author
Dr. Alsyyed Abu Mohammad Naqvi is from the progeny of the 10th Imam Ali Naqi, being 41st generation of Imam. Naqvi's research focuses on the origins of Shia Islam and teachings of the Quran and the 14 Infallibles, examining how their instruction differs from other schools of thought. Naqvi is author to two previously published books on the Quran and the Infallibles and is co-author of "The Grand Terror Attack on Islam."