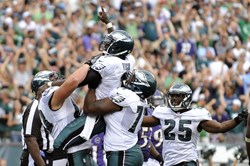 Philadelphia, Pennsylvania (PRWEB) September 12, 2013
In the first game of the first Monday Night Football of the 2013 regular season, the Philadelphia Eagles traveled to Washington to show RG3 and the Redskins how they had improved over the offseason. Not only did the team came to play and win, but so did brand new Eagles coach Chip Kelly. Kelly's highly hyped and anticipated offense lived fully up to their potential. They ran 30 plays in the first quarter and 53 total in the first half, functioning at a hard to keep up with pace as they beat the Redskins 33-27. In the first half alone, the Eagles fast pace shoed by having 21 first downs. Kelly then slowed them down a bit in the second half, but took the W and proved himself to Eagles fans everywhere.
The Eagles demolished the Redskins on the ground. They rushed 49 times for 263 yards, the most since 2000. In comparison to other NFL teams this past weekend, the Eagles soared, and even with their fast pace and victory, Kelly wants more. Coach Kelly led his Oregon team to many victories, and is looks like he is about to do the same for the Eagles.
Quarterback Robert Griffin III started the game a little rusty, being that it was his first since his ACL surgery in the offseason. By halftime, the Eagles were leading the Redskins by a whopping 26-7. RGIII got it together by the end of the game though, and brought his team within 6 points of the Eagles. It was not enough though, and the Eagles took home their first division victory of the season. To purchase Philadelphia Eagles tickets to their next game against the San Diego Chargers on September 15th and more, visit http://www.Eagles-Tickets.org. Fans that use the site can also use the easy read game schedule and read our active Eagles blog. Additionally, the site offers the cheapest tickets on the web, as well as a world class customer service team. The Eagles fan hub is also fun to use, as customers can engage with their friends and other Eagles fan about the games they attended. Visit the site or call 866-217-4777 today for your Eagles tickets!