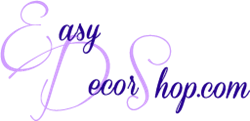 (PRWEB) August 21, 2013
Wendy Cody is excited to announce the creation and launch of her new website venture, http://www.EasyDecorShop.com. The website offers a broad assortment of furniture and decorative products including lamps, clocks, mirrors, and plenty of other products that are perfect for the furnishing and decorating of a new home. Cody has had many experiences where she has had to visit multiple websites to find products that interest her and her goal is to develop her website as a one-stop shop where potential customers can find the perfect variety of products for their homes.
There are many unique, high quality items featured within the merchandise of EasyDecorShop.com. There are some interesting-looking lamps offered on the site, as well as many different and practical items that would be perfect for the younger generation or for a child's room. In the future, Cody intends to further expand the product lines that are offered on her website. She intends to incorporate some area rugs in the near future, as well as plenty of other products. By periodically updating the merchandise offered on her website, she hopes to encourage customers to keep coming back to the website to check out what's new.
Customer service is something that is very important to Cody regarding each and every transaction made on EasyDecorShop.com. She recognizes that many websites are all business and prefers to have a warm, friendly feeling ever-present on her website. The website has been designed to be very easy to navigate so that customers can find the products that they are looking for without difficulty.
To complement the main website, Cody is also launching a blog located at http://www.EasyDecorShopBlog.com. The blog will feature topics related to the different uses of furniture and pieces of décor that are offered for sale in the online store. Cody also intends to put focus on seasonal topics and will introduce products through the blog. She wants to write articles that are practical and feature hints on how to clean your furniture as well as inspirational articles that get potential customers interested in making decorative changes to their homes.
About the Company:
EasyDecorShop.com – a division of WSC Marketplace, LLC – is owned and operated by Web entrepreneur Wendy Cody.
****
Wendy Cody
http://www.EasyDecorShop.com
(510) 870-8737
iePlexus, Inc.
http://www.iePlexus.com