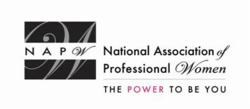 I'm continually looking for a rainbow to jump on.
Garden City, NY (PRWEB) November 19, 2013
NAPW honors Marlena Gilbert as a 2013/2014 Professional Woman of the Year for leadership in business and management with this prestigious distinction. As the largest, most-recognized organization of women in the country, spanning virtually every industry and profession, the National Association of Professional Women is a powerfully vibrant networking community with nearly 500,000 members and over 400 Local Chapters.
"I'm continually looking for a rainbow to jump on," explained Mrs. Gilbert when asked to describe herself. A self-proclaimed multi-business owner with enough energy and ambition to run even more than the three companies she already owns, Mrs. Gilbert finds it impossible to ignore opportunities when they present themselves. However, the enthusiasm she displays at the mention of a new business venture pales by comparison when asked about her son who is clearly the light of her life.
Eight years ago Mrs. Gilbert became principal director of the Apartment Connection USA Inc. of Massachusetts, a company that locates and administers housing accommodations throughout the United States for corporate relocations and emergency housing relief. In 2008 she launched her second company, DJM Properties LLC and currently is the owner of 18 apartment units worth more than a million dollars in equity. By 2010 Mrs. Gilbert took notice of a florist shop for sale in the historic town of Chelmsford, Massachusetts. Since she has taken ownership, it have been voted the #1 florist in Chelmsford by the readers of Wicked Local, making Feeney Florist of Chelmsford the "wicked best choice" for floral arrangements in 2012 and 2013. Mrs. Gilbert is a born entrepreneur who has proven that anyone with a desire to succeed can make it happen
NAPW Provides an exclusive, highly advanced networking forum to successful women executives, professionals and entrepreneurs where they can aspire, connect learn and achieve. Through innovative resources, unique tools and progressive benefits, professional women interact, exchange ideas, advance their knowledge and empower each other.