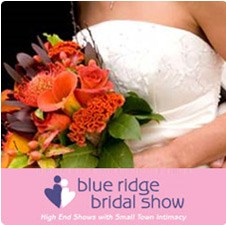 Wedding Venues Explode in the Shenandoah Valley
Winchester, VA (PRWEB) September 09, 2013
It's no secret that the northern Blue Ridge Mountains Shenandoah Valley offers everything a bride could imagine as the wedding backdrop for their special day. "I have spent ten years branding 'Blue Ridge Bride' and am excited to launch BlueRidgeBride.com at the Blue Ridge Bridal Fall Show on September 15th," said Nancy Craun, Owner and Founder of Blue Ridge Bride.
The northern Blue Ridge Shenandoah Valley from Shepherdstown, West Virginia to Harrisonburg, Virginia offers romantic fun destinations including the award-winning Luray Caverns. From luxury country inns to spa resorts to newly restored historic hotels and manor houses to wilder adventuresome venues, these wedding destinations are a hidden gem about to burst. They have the advantage of no airplane hassles and are areas loved by brides and guests.
On Sunday, September 15th in the heart of the northern Blue Ridge in Winchester, Virginia, Blue Ridge Bride will celebrate weddings kicking off their 2014 season with the Fall Bridal Show. Showcasing the George Washington Hotel, brides can begin the day by having a brunch with Alpha Voyages where they can explore honeymoon opportunities with Luke Majewski of Sandals Resorts.
Blue Ridge Bride in partnership with Go Blue Ridge Travel offers free planning checklists to every bride designed to be shared over the internet. With the goal of making the planning of a wedding easy for all involved parties, Go Blue Ridge Travel is the travel itinerary planning guide for the northern Shenandoah Valley of Virginia and West Virginia.
The show, featuring regional wedding vendors, will open at 1pm. Redken Artist, Andrea Kozel, of Mane Attraction Salon and Wellness Spa will demonstrate the latest bridal hairstyles. Brides can enjoy the Garden Room Tea and then watch Potomac Bridals' Fashion Show. Prizes include a romantic getaway package from the George Washington Hotel and Alpha Voyages's Four Night Fling at a Starwood Hotel anywhere in the United States.
All future brides are invited to attend the show with family and friends. Register online for the Silver Suitcase Giveaways—tickets will also be available at the door for $7 for one and two for $12.
About BlueRidgeBride.com and GoBlueRidgeTravel.com:
Opening their first bridal show in 2004, Blue Ridge Bridal Show, a division of Encore Event Partners showcased wedding venues and professionals who live and work in this region. In 2013, Blue Ridge Bride was launched to provide a targeted website for the bridal market wanting to be married in the Shenandoah Valley of Virginia and West Virginia.
In 2011, GoBlueRidgeTravel.com (GoBRT), also a division of Encore Event Partners was launched to be the only VA-WV-MD regional website showcasing the activities, events, and accommodations in the Blue Ridge Mountains and northern Shenandoah Valley. With a ten year relationship of marketing the region to brides for their wedding destinations, GoBRT is now reaching out to families branding the trademark 'GoBRT's Kids Bucket List' showcasing the experiences tots to teens should have prior to turning eighteen in the valley. Covering Virginia and West Virginia, Go Blue Ridge Travel's goal is to brand this 100 mile radius as a travel and wedding destination both nationally and internationally.
Contact: Nancy Craun Founder and President BlueRidgeBride.com GoBlueRidgeTravel.com Phone: 540.533.1853 Email: info(at)GoBlueRidgeTravel(dot)com and brb(at)BlueRidgeBridalShow(dot)com.