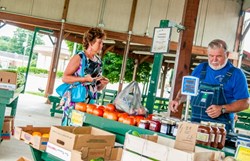 From festivals to outdoor adventures, Franklin County features a diverse calendar of things to see and do for patrons of all ages.
Franklin County, VA (PRWEB) September 30, 2013
Celebrate fall in Franklin County – where vibrant foliage sets the landscape ablaze and family-friendly events abound in the foothills of the Blue Ridge Mountains. From festivals to outdoor adventures, Franklin County features a diverse calendar of things to see and do for patrons of all ages.
Authors and artists from throughout the region whose work showcases Franklin County and Southwest Virginia's Appalachian culture will be celebrated at the Mountain Spirits Festival, Oct. 5, from 10 a.m-3 p.m. in downtown Rocky Mount. The event will feature authors and artists displaying their creative works, a music stage with various genres of regional music, children's activities and local food vendors. Visit http://www.mountainspiritsfestival.com.
Thee Red Barn in Boones Mill will open to the public beginning Oct. 5, from 10 a.m.-4 p.m., and will continue each Saturday in October offering a corn maze, hay rides, a hay slide, farm animals, a skeleton race, cotton seed treasure hunt, duck water race, straw maze, scarecrow throw and much more. Thee Red Barn also will feature a pumpkin patch and vendors with hand-crafted and baked items. Visit http://www.theeredbarn.com.
Celebrate Farmers Appreciation Day, Oct. 12, from 10 a.m.-2 p.m. at the Farmers' Market in downtown Rocky Mount. This event, sponsored by the Franklin County Retail Merchants Association, will feature wood crafts, old-time farm exhibits, produce, blacksmith demonstrations and more.
The first annual Smith Mountain Lake Oktoberfest and 5K Trail Race will be Oct. 19 at Westlake Towne Center. The 5K Trail Race will start at 10:30 a.m. and Oktoberfest will follow from noon-5 p.m. The festival will include live entertainment by The Sauerkraut Band, who will perform authentic German music in traditional Bavarian-style clothing, as well as Barefoot West. The event will also feature a children's play area, German food and a special Oktoberfest beer by Sunken City Brewery. Admission for adults is $5 and free for children age 13 and under. The 5K Trail Race will begin at Westlake Towne Center, wind through the Jack-O-Lantern Branch Heritage Trail at the Booker T. Washington National Monument and end at Oktoberfest. Awards will be given to the top three runners, male and female, and to the top finishers in each age bracket. Race registration is $25 for adults, $15 for children under age 13. An additional $10 will be charged for registrations after Oct. 4. Visit http://www.smloktoberfest.com.
The Franklin County Historical Society will host the Ghosts and More Tour of Rocky Mount on Oct. 19 and Oct. 26. The tour includes a vintage bus ride around the town, meeting characters – some living, some not – who tell true stories of ghostly sightings and activity, murderous events and intrigue.
For 40 years the Blue Ridge Folklife Festival has commemorated the rich heritage and honored traditions of the region. The celebration will continue, Oct. 26, from 10 a.m.-5 p.m. on the campus of Ferrum College. The festival offers an array of contests and demonstrations, three music stages and an unmatched market of rural folk crafts. Visit http://www.blueridgefolklifefestival.org.
The annual Smith Mountain Lake Fall Chili and Craft Festival will be Nov. 2 at Bridgwater Plaza in Moneta. Enjoy a full-day event featuring music, crafts and a spectacular competitive chili cook-off. Trophies will be awarded for "Best Chili," "People's Choice," and "Showmanship." Tickets are $5 at the gate.
Other fall events include Ferrum College's Centennial Celebration, Oct. 3-6; Homestead Creamery's 5th Annual Farm Day, Oct. 5; the Fishers of Men District 4 Championship Tournament, Oct. 11-12; the Smith Mountain Lake Charity Home Tour, Oct. 11-13; the Jonny CASA 5 Miler/5K Run-Walk with Zombie Run, Oct. 12; and the Smith Mountain Arts Council's 24th Annual Art Show, Oct. 25-27.
For more information about fall and other events, visit http://www.VisitFranklinCountyVa.org.