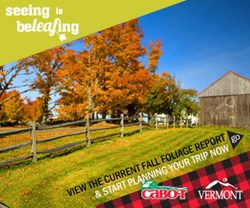 Community trees often offer wonderful late color in stately old sugar maples that mark town greens and village streets.
(PRWEB) October 17, 2013
This week, come along as we tour the Connecticut River Byway in central and southern Vermont. See the maple-lined streets of Windsor, the birthplace of Vermont; meet Jon, an organic farmer selling pumpkins at Deep Meadow Farm in Ascutney. From covered bridges, glimpse fiery red and golden leaves floating down the river, and in White River Junction, tour the historic downtown train station that still welcomes passengers daily.
While Vermont's northern and higher elevations are past peak, hikers and leaf-peepers should keep in mind that the views from the trails will be opening and that the understory foliage continues to be bright and beautiful.
BEST DRIVES
In Addison and Rutland Counties, colorful foliage can be found on Route 116 from Starksboro to East Middlebury, Route 17 from Bristol to Addison, and Route 7 between Middlebury and Rutland. Also try Route 140 from Wallingford to Poultney, Route 4 from Fair Haven to Rutland, Route 3 from Pittsford to West Rutland, Route 30 from Poultney to Cornwall, Route 73 from Sudbury to Lake Champlain, and Route 22A from Fair Haven to Bridport.
In southern Vermont, suggested drives include Route 5, the Connecticut River Byway, Route 7A from Manchester to Bennington, Route 313 in Arlington, Route 30 from Manchester to Rupert, Route 100 from Plymouth to Wilmington, Route 103 from Proctorsville to Rockingham, Route 9 from Brattleboro to Marlboro, Route 35 from Townshend to Chester, and Route 30 from Brattleboro to Newfane.
Whether it's a chicken pie supper or a Halloween getaway you seek, plan your trip at http://www.VermontVacation.com/Fall.