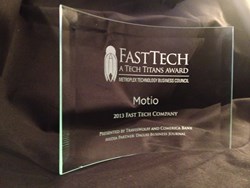 We are thrilled to be honored as one of the fastest growing tech companies in the Dallas-Fort Worth area.
Dallas, TX (PRWEB) September 26, 2013
Motio, providers of solutions that streamline and extend IBM Cognos Business Intelligence software, received the Fast Tech Award on Friday, August 23 at the Metroplex Technology Business Council's Tech Titans Awards Gala. The Fast Tech Award recognizes the 35 fastest growing technology, media, telecommunications, life sciences, and clean technology companies in the DFW Metroplex.
"We are thrilled to be honored as one of the fastest growing tech companies in the Dallas-Fort Worth area," said Lynn Moore, CEO of Motio, Inc. "The business intelligence (BI) market has recognized Motio as the leading provider of software solutions that greatly enhance the productivity in IBM Cognos software. We are currently serving over 65 countries in the regions of: North America, South America, Europe, The Middle East, and Asia-Pacific, and we are continuing to expand our domestic and global reach."
Founded in 1999, Motio's mission has always centered around delivering innovative software solutions which improve the lives of their customers. Motio's talented team of software engineers have developed a suite of software solutions which are used in large-scale IBM Cognos environments around the globe to improve the efficiency of the business intelligence development process. Motio is perhaps best known for its flagship product, MotioCI, which augments IBM Cognos environments with version control, automated testing and release management capabilities.
In its 13th year, the Fast Tech Award honors the fastest growing technology, media, telecommunications, life sciences and clean technology companies in the Dallas-Fort Worth Metroplex, based on revenue growth from 2010 to 2012. The ranking is compiled from nominations submitted directly to the Metroplex Technology Business Council (MTBC) and through independent research using publicly available information conducted by the MTBC, Travis Wolff, LLP, and Comerica Bank.
"At the MTBC, we keep our finger on the pulse of what is happening in the tech industry in North Texas," said Bill Sproull, president and CEO of the MTBC. "These fast growing companies are what makes our technology industry so vibrant…keep your eyes on them!"
About Motio
Motio is an IBM Premier Business Partner that offers a suite of products designed to ensure the optimal performance of BI implementations. Motio's software portfolio includes MotioCI, a solution that provides version control, release management and automated testing for IBM Cognos, and MotioPI, a free tool designed to ease cumbersome tasks in Cognos. Motio's product suite aims to assist Cognos developers, empower Cognos administrators, enrich the experience of BI consumers, and simplify the management of Cognos installations. Motio strives to develop software solutions that increase the velocity of BI development teams by guiding them to "work smarter" and enabling them to produce more consistent, accurate and performant BI content in less time. For more about Motio, visit http://www.motio.com.
About Metroplex Technology Business Council
The Metroplex Technology Business Council (MTBC) is the innovation hub for North Texas' technology community and actively connects entrepreneurs, universities and corporations for significant technological advancements. Founded in 1994 as a non-profit organization with approximately 300 members, it includes technology businesses and providers from across the DFW metroplex. The MTBC is a TITAN, focused on growing Talent, Innovation, Tech Titans, Advocacy and Networking. It promotes the Dallas region as the center of cloud computing and fosters a culture of innovation among major technology companies in the region. Events include monthly Tech Industry Luncheons, Cloud Computing Special Interest Group Events, CEO Forums, Tech Week in Austin and the annual Tech Titans Awards Gala event. More information about MTBC can be found online by visiting http://www.metroplextbc.org.