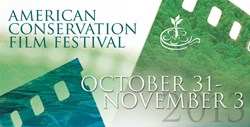 The real reality show.
Shepherdstown, West Virginia (PRWEB) October 22, 2013
One of the best kept secrets of West Virginia is the high quality theater and film festivals in the state. The West Virginia town of Shepherdstown will showcase 65 films at The American Conservation Film Festival (ACFF) drawing visitors from Washington DC, Baltimore, Maryland and the tri-state area of Virginia, West Virginia and Maryland. The festival welcomes 29 engaging filmmakers, and offers panel discussions on the controversial issues of Fracking and Nuclear Energy. "I like to say these films are 'The Real Reality Show,'" said Lissa Cobetto, Executive Director.
The American Conservation Film Festival occurs over a four-day five venue time period from October 31st to November 3rd. "Originally housed at the Natural Conservation Training Center (NCTC) in Shepherdstown, many people believe the festival is federally funded which is not true," said Lissa Cobbett, Executive Director. "It has caused a real fundraising issue for us. ACFF is a non-profit corporation. Our mission is to promote outstanding films and the arts to educate and inspire people to become engaged in conservation. The motivating force behind ACFF is the power of imagery to inform and inspire."
The American Conservation Film Festival was started in 2003 by a group of volunteers who shared both a devotion to film arts and a commitment to conservation. The members also shared belief that attitudes about the environment are shaped by experiences in it, and that people and their cultures are an essential part of Earth's biosphere.
"We now attract more than a hundred quality submissions each year, reflecting the festival's strong and growing reputation with professional filmmakers," said Cobetto. "They appreciate ACFF's way of making the filmmakers and their work the focus of the Festival. ACFF rolls out the carpet for its filmmakers by hosting special "meet the filmmaker" events and filmmaker forums, and by providing lodging and other amenities that few festivals offer. We also invite guest lecturers to help frame the topics of films that illuminate pressing environmental issues."
This year, ACFF is announcing some the award winners early –
The 2013 Green Fire Award winner, bestowed upon the film that shows an extraordinary level of excellence in filmmaking and helps us look anew at our relationship with our environment is The Lost Bird Project by Deborah Dickson and Muffie Meyer.
The 2013 Broadcast Award winner is Plastic Paradise: The Great Pacific Garbage Patch by Angela Sun.
The 2013 Student Filmmaker Competition Award is Backyard by Dela Schlosberg, Montana State University.
On Saturday starting at 12 noon, ACFF offers a free series of films for children. Nancy Craun of Go Blue Ridge Travel says, "This is an excellent time for parents to let their kids see filmmaking as a profession while at the same time presenting topics that are pertinent to the younger set." The featured film is Cafeteria Man by Richard Chisolm and Sheila Kinkade. Cafeteria Man is a story of positive movement that shows what's possible in our nation's schools. It is the true story of chef Tony Geraci and his mission to radically reform Baltimore's public school food system with a recipe for change.
Closing the festival this year on Sunday November 3rd is The Ends of the Earth: Alaska's Wild Peninsula by filmmaker John Grabowska. Graowska will be at this performance to answer questions. Featuring his sweeping aerial shots of breathtaking scenery to intimate close-ups of wildlife particularly the bears.
Click here for the Schedule of Films. Ticket prices are extremely reasonable. Full Festival Passes are $40 with a discount for seniors, students, and military. A block of films is $10. Many films at the National Conservation Training Center are free funded by a grant from Arts and Humanities Alliance of Jefferson County, West Virginia.
About GoBlueRidgeTravel.com
Founded in 2011, GoBlueRidgeTravel.com (GoBRT), a division of Encore Event Partners is the only regional website showcasing the activities, events, and accommodations in the Blue Ridge Mountains and northern Shenandoah Valley. With a ten year relationship of marketing the region to brides for their wedding destinations, GoBRT is now reaching out to families branding the trademark 'GoBRT's Kids Bucket List' showcasing the experiences tots to teens should have prior to turning eighteen in the valley. Covering Virginia and West Virginia, Go Blue Ridge Travel's goal is to brand this 100 mile radius as a travel and wedding destination both nationally and internationally.
Contact: Nancy Craun, Founder and President GoBlueRidgeTravel.com | Phone: 540.533.1853 | Email: info(at)GoBlueRidgeTravel(dot)com