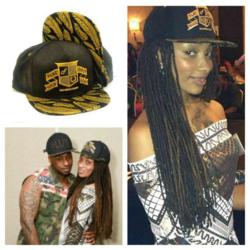 "I have a range of fashion and lifestyle inspiration that will translate to our fans well with the support of Flat Fitty's creative team." - Dutchess Lattimore
Carlsbad, CA (PRWEB) July 05, 2013
Flat Fitty is proud to announce Ceaser Emmanuel and Dutchess Lattimore of New York's famed Black Ink Tattoo Gallery as official Brand Ambassadors. As breakout reality television stars, these nationally respected tattoo artists and entrepreneurs have become a celebrity couple to watch in 2013.
In recent months, Ceaser and Dutchess have celebrated stellar ratings with their polarizing VH1 reality show Black Ink Crew, garnering a cult following that rivals some of the most memorable reality shows on cable TV to date. The duo also launched their own "Pillow Talk" radio show in June, which now airs on DTFRadio.com every Wednesday night.
This year alone, Flat Fitty has celebrated huge growth steps with Brand Ambassadors like DJ Whoo Kid and DJ Drama on board, and a new custom collection for Wiz Khalifa launching this Fall. The luxury headwear brand has also enjoyed successful presence at large gatherings like SXSW and MAGIC Market Week Las Vegas.
"Dutchess and Ceaser represent the mutual desire for quality in their work that makes them both perfect for the Flat Fitty lifestyle," explains Dove Clark, Flat Fitty's Business Development Manager. "We are excited to have them on the team, and look forward to making impact in their world as well."
For Spring 2014, Dutchess will be collaborating with Flat Fitty on a unique line of headwear, keeping ladies in mind.
"I have a range of fashion and lifestyle inspiration that will translate to our fans well with the support of Flat Fitty's creative team," Dutchess says. "I think women should wear hats - that's my theme, figuratively and literally. Women should be able to play many different roles in today's world. Wearing different hats is part of being a modern woman."
People who visit the Black Ink Gallery on legendary Lenox Avenue in Harlem for a tattoo this Summer will be able to purchase the limited "Black Ink - Family First" edition of Flat Fitty's black-on-black and red-on-black "Die Real" designs.
Ceaser and Dutchess have already been spotted across the country sporting Flat Fitty's latest line of snapbacks, strapbacks, 5-panel and 6-panel Hybrid caps, helping to build curiosity about the brand.
"I like Flat Fitty because the hats are well made," explains Ceaser. "When I put my name behind a product, it has to be top quality. Also, they match my sneakers. I swear Flat Fitty has a hat to match every pair in my closet!"
For more information on Dutchess and Ceaser of Black Ink, go to http://DutchessLattimore.com, http://Twitter.com/DutchessOfInk and http://Twitter.com/Ceaser_Tattoo
ABOUT FLAT FITTY
In recent months, Flat Fitty Luxury Headwear has grown tremendously in the International Street, Lifestyle and Skate Apparel market, and the fashion industry as a whole. Now with over one million Facebook fans, the brand is being embraced by major U.S. specialty chains like LIDS and Tilly's, among other notables.
The brand recently announced an exclusive headwear deal with Wiz Khalifa, and has a growing list of solid Brand Ambassadors including SiriusXM / G-Unit rep DJ Whoo Kid; pro-snowboarder Anton Gun; Radio personality and Hip Hop tastemaker DJ Drama; ABDC winners and Las Vegas featured act Jabbawockeez; the world's youngest deejay, DJ BabyChino; pro-skateboarder Manny Santiago and more. With this growth, Flat Fitty is quickly becoming a staple in the Youth Culture Market.
For more information, go to http://FlatFitty.com.