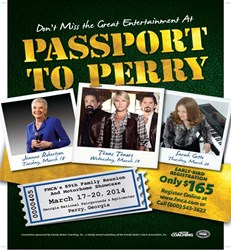 Cincinnati, Ohio (PRWEB) December 11, 2013
Family Motor Coach Association (FMCA) is an international organization for families who own motorhomes, and each year the group hosts events focused on the motorhome lifestyle.
FMCA's fun-filled "Passport to Perry" event will take place March 17 to 20, 2014, at the Georgia National Fairgrounds & Agricenter, located just off Interstate 75 in Perry. This popular, RV-friendly venue will play host to an expansive list of activities for motorhome owners, including RV seminars, entertainment, and exhibits featuring motorhomes and related products.
A fishing tournament on the Agricenter's small lake will challenge anglers; this also will be the venue for the pedal boat races. Elsewhere on the grounds, a golf cart driving-skills contest will attract participants and onlookers, and the aforementioned passport game will challenge participants to collect stamps for their passports before time runs out.
A best-dressed pets contest will put the spotlight on various critters who take to the open roads with their RVing guardians. A geocaching contest, card bingo, and a bean-bag baseball tournament also are scheduled.
"Purses For A Purpose," a silent auction, will feature bags filled with RV-related items. All proceeds will be donated to an organization that helps to support area military families.
After days filled with fun games – plus the opportunity to attend seminars and peruse hundreds of motorhomes and booths full of RV-related merchandise — motorhome owners will be able to relax and take in first-class entertainment in the evenings.
On Tuesday, March 18, Jeanne Robertson will fill the audience with laughter as she shares humorous tales of her life experiences, complete with her trademark Southern drawl.
Next up, on Wednesday, March 19, The Texas Tenors — JC Fisher, John Hagen, and Marcus Collins — will perform country, gospel, classical, and Broadway music, adding humor and cowboy charm to their breathtaking vocals.
Sarah Getto will take the stage Thursday, March 20, with her own spin on tunes originally made popular by Anne Murray, Karen Carpenter, The Supremes, The Captain and Tennille, Alison Krauss, and other pop, country, and gospel performers. Sarah also will share some of her original songs.
The Georgia gathering is expected to attract more than 2,500 motorhomes and their owners and is the first of two international Family Reunions and Motorhome Showcase events slated for 2014.
The town of Redmond, Oregon, and the Deschutes County Fair and Expo Center will be the setting for the association's 90th Family Reunion & Motorhome Showcase August 13 to 16, 2014. And the association also recently announced that it will be traveling to Fairplex in Pomona, California, for its 91st Reunion, March 26 to 29, 2015.
For information about exhibiting at or attending upcoming FMCA Family Reunions, contact FMCA at (800) 543-3622 or visit FMCA.com.
About Family Motor Coach Association • Enhancing The Motorhome Lifestyle
Family Motor Coach Association (FMCA) is an international organization for families who own and enjoy the use of self-contained, motorized recreation vehicles known as motorhomes. The association maintains its national headquarters in Cincinnati, Ohio, and currently has nearly 80,000 active member families. FMCA offers its members a number of benefits, including a subscription to its monthly magazine, Family Motor Coaching; trip routing; mail forwarding; and group rates on motorhome insurance, roadside assistance, and an emergency medical evacuation plan. Perhaps the most important benefit of FMCA membership is the camaraderie and friendships that develop among people enjoying the common interest of motorhome travel and recreation.