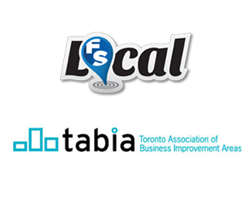 Toronto, ON (PRWEB) December 09, 2013
FS Local is proud to announce its partnership with the Toronto Association of Business Improvement Areas (TABIA) as part of its mission to help small business succeed and encourage consumers to shop local.
With a strong focus on community, FS Local and TABIA aim to provide Toronto's Business Improvement Areas (BIAs) and their business members' effective solutions to enhance their marketing efforts online.
John Kiru, Executive Director of TABIA, said: "on the heels of a very successful Shop the Neighborhood Campaign with the YPG on November 30th, this is a natural progression to providing member businesses with an effective online presence, strengthening not only their bricks and mortar business but encouraging them to effectively become national if not international."
FS Local is an exciting innovation in online small business marketing that is gaining traction due to their simplicity and low-cost service. Participating BIA businesses will have the ability to build, customize and update their business listing on the FS Local directory. In addition, they will be given access to complimentary social marketing tools and publicity support.
Michael Yack, Founder of FS Local, said: "We are very privileged and excited to partner with TABIA working hand in hand to make the online transition easy and successful for the small businesses of Toronto's BIAs."
This latest partnership reinforces FS Local's commitment to supporting the businesses and business owners that serve our local communities.
ABOUT FS LOCAL
Based in Toronto, ON FS Local provides effective and affordable marketing services for small businesses. The company is partnered with various corporations and organizations to create and offer products and services that help Canadian small businesses achieve online success. FS Local is frequently looked to for its expertise in the field of new media. Visit http://www.fslocal.com for details.
ABOUT TABIA
TABIA is a non-profit umbrella organization representing the City of Toronto's 77 Business Improvement Areas (BIAs) who in turn represent over 35,000 small businesses and property owners. BIAs are responsible for the development of their commercial neighbourhoods and are a diverse and vibrant collection of ethnic, historic and business locations, combining to make Toronto a veritable City of Neighbourhoods.