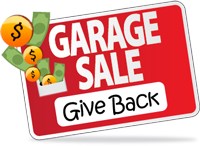 (PRWEB) October 29, 2013
A national garage sale listing site expects exponential growth as the country experiences financial change and instability.
Garage Sale Give Back recently launched its website garagesalegiveback.com, where users can list their garage sales for greater local exposure. Company owner and CEO Jonelle Wilder says the site is currently featuring an average of 200 listings each week, and expects that number rise considerably as the country is feeling the effects of the government shutdown and other economic stresses.
In the wake of the government shutdown, the Bureau of Labor Statistics reported on Tuesday, October 22 of this month that 11.3 million jobless Americans are still looking for work, and on Friday, October 25th, CNN predicted a 9.5% increase in average health care costs in 2014. This may prove to be a perfect recipe for an increase of bargain-sale shoppers as American families look for ways to reduce their spending, and possibly even their income bracket in an attempt to qualify for government health care subsidies.
"I'm sad to see so many of my neighbors worrying about the future, but I'm grateful that I can step in and offer a solution, too," says Wilder.
She says her company tries to provide a win-win for users and communities by offering a user-friendly interface and by donating a portion of its profits to a featured charity each month. She says her company aims to highlight the good in the world and remind others that there is always a silver lining.
"We may not be able to change the world," says Wilder, "but we aim to support the ones that are trying."
She says her website is ready to take on the challenge of increasing its user base, and continuing to provide the best service possible.
About Garage Sale Give Back
Jonelle Wilder founded her company Garage Sale Give Back with a desire to create a win-win for everyone. She launched its website garagesalegiveback.com in the summer of 2013 in order to provide a user-friendly interface for bargain-sale shoppers online, and an avenue for affecting change around the country.
The company donates a portion of its profits to a featured charity each month. The selected charity is promoted on the website, and brings attention to the organizations and people that are doing good throughout the nation.
Users can create a listing for their garage sale, complete with pictures and descriptions of items being sold; or they can search the website's large database of listings for a sale close to home anywhere across the country.
For more information on how you can use the service, become a featured HOA, or find out more about the promoted charities, you can go to https://www.garagesalegiveback.com or call (888) 959-6008.