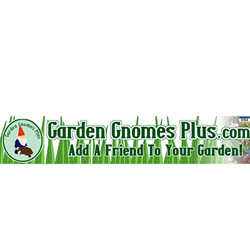 (PRWEB) September 11, 2013
Peggy Frazier is proud to announce the creation and launch of her new website venture, http://www.GardenGnomesPlus.com. The website offers outdoor garden products such as garden gnomes, bird feeders, hammocks, and plenty of other décor items that will fit in anyone's yard or garden. Frazier loves the outdoors and outdoor décor and has chosen products to sell on her website that she believes people would genuinely love to see in their yards and gardens.
There are many wonderful and interesting products that are featured within the merchandise of GardenGnomesPlus.com. The offerings include fountains, wind chimes, stepping stones, statues, swings, fire pits, bird houses, bird baths, planters, and much, much more. Frazier picks many products that she knows that she would like to see in her own garden and believes that there are many likeminded people who would love to see the same types of products in their own gardens and yards.
In the future, Frazier intends to further expand the product lines that are currently offered on GardenGnomesPlus.com. She also plans to add seasonal products for holidays such as Halloween and Christmas. By periodically updating the website's merchandise, Frazier hopes to encourage customers to keep coming back to the online store to check out what new products have been added. Customer satisfaction is something that is very important to Frazier and she is always willing to listen to customer feedback when it comes to what types of products her potential customers might be looking for.
To complement the main website, Frazier is also launching a blog located at http://www.EverythingForYourGardenBlog.com. The blog will feature topics related to the different products that are featured in the online store. Frazier intends to guide her potential customers towards making informed decisions when purchasing products by providing supplementary information about each of the items sold on her website in the blog posts.
About the Company:
GardenGnomesPlus.com – a division of PFF Distributors, LLC – is owned and operated by Web entrepreneur Peggy Frazier.
****
Peggy Frazier
http://www.GardenGnomesPlus.com
(206) 365-5064
iePlexus, Inc.
http://www.iePlexus.com