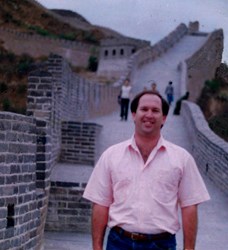 ...it isn't just about finding the product to fit their current needs – it is about finding a product that can accommodate their rapid growth in the future, as well.
Buffalo, NY (PRWEB) October 31, 2013
Leading TAP and filtering aggregation load balancing provider, Garland Technology, promotes Mike Shaw to the overseas position as Director of the Asia Pacific. The move comes with the opening of the new Europe office as Garland pursues the Europe, Middle East, and Asia (EMEA) regions to strengthen ventures with new and current partners.
Previously with Garland, Shaw led the role as Business Development Manager, and oversaw a team to help strengthen market positions by identifying resellers (known as VARs), as well as closing and negotiating deals. He worked with VARs to provide TAPs to fit IDS, NexGen Firewalls, IPS, DLP, and other network appliances.
"Our business and clientele have been expanding rapidly," said CEO Chris Bihary. "Appointing Mike to Director of Asia Pacific is the logical choice to make sure our clients in the region are getting the best service. His experience is a perfect fit for the role and I know he's going to make huge strides as we expand our business."
Shaw, with over 25 years' experience in enterprise network applications, has been with Garland Technology for two years, and has worked closely with Bihary and others on the Garland team for nearly five years. His experience includes time with Network Critical as a Business Development Manager, VP World Wide Sales at Innapoint, and as Regional Director, Avnet Computer Division. Shaw has extensive International sales experience with the Asian Pacific Region as well as EMEA working with partners and customers in over 46 different countries. Shaw stated his excitement about the role is more about helping the geographic area prepare for the growth of their networks.
Now, as Director of Asia Pacific, Shaw will oversee the development of solutions for Garland's clients across that region, assisting them with the rapid growth and network access issues that may arise with that growth.
"I look forward to continuing to do business with our clients across Asia. With or without the new title, I know Garland's products and I know they will serve our customers well," said Shaw. "With this demographic, it isn't just about finding the product to fit their current needs – it is about finding a product that can accommodate their rapid growth in the future, as well."
About Garland Technology
Garland Technology guarantees precise data monitoring capabilities for enterprise networks with no added point of failure. Garland's line of Test Access Points (TAPs) are the foundation to all network monitoring by delivering access to all data for security, network visualization, network performance monitoring, forensics, deep packet capture, data leakage, and compliance.
Garland Technology's full line of Network, Aggregation, Bypass, and Regenerating TAPs, as well as the Filtering Aggregation Load Balancing (FAB) product line, is the leading Network Access Solution. Garland's Network Access Products are available for 10/100/1000, 1 Gigabit, 10 Gigabit, 40 Gigabit, and 100 Gigabit local and wide area networks.
For more information, visit http://www.garlandtechnology.com.