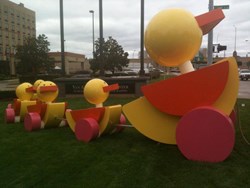 Tim Priest GRPMs Collections manager was quoted saying," How well Giant Quacker was received and how it really accented well against the museum's North Lawn.
Grand Rapids, Michigan (PRWEB) October 29, 2013
Thanks to everyone who voted for the Giant Quacker POPart Sculpture at the ArtPrize competition. It was a wonderful celebration of artists and the Grand Rapids community.
The Giant Quacker Project, a Pop Art sculpture designed by Erie, Pennsylvania's own artists Gary Cacchione & David Seitzinger was entered in ArtPrize 2013. Voting by the public reached tens of thousands of people roaming the streets of Grand Rapids who debated on the merits of sculptures, drawings, paintings, and installations. Giant Quacker was a crowd favorite and was selected as the Top 50 out of 1,524 entries. Dovetail Gallery is honored to of teamed up with the Grand Rapids Public Museum.
The Grand Rapids Public Museum curated a rewarding exhibit experience with approachable art that was intriguing and distinctive.
Giant Quacker is back on tour and available for purchase. For more information contact bradf(at)dovetailgalleryinc(dot)com.
Video:http://www.youtube.com/watch?v=RhLt5Bl4uOY