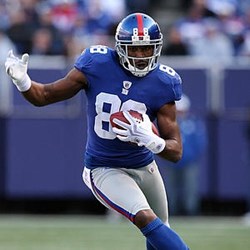 New York, New York (PRWEB) August 17, 2013
If the New York Giants can stay healthy for the season, they are a good enough team to probably be a Super Bowl contender. On Saturday, August 10th, the Giants played in their preseason opener against the Pittsburgh Steelers. Even without standout players like defensive ends Jason Pierre-Paul and Justin Tuck, or wide receiver Hakeem Nicks, the team still won the game 18-13. Tuck and Nicks will most likely be back for the team's next game against the Colts on August 18th, but Pierre-Paul will not. If the Giants want to have a chance at another Super Bowl win this season, they are going to have to stay healthy. The Giants have a tough schedule this year, as they face the Dallas Cowboys in their season opener, the Washington Redskins on December 1st, and the Seattle Seahawks on December 15th. To buy tickets to these three games and more, visit http://www.NewYorkGiants-Tickets.com.
The competition for back up quarterback behind Eli Manning is still going on at Giants practices. There is no guarantee yet for who will earn the position, as the coaches have been impressed with more than one player. Veteran Curtis Painter is now challenging David Carr, who may have expected to win the job. Rookie quarterback Ryan Nassib did not have the best start to his NFL debut, and although a good player, will most likely be seeing third string action this year. Starting quarterback Eli Manning has started off the preseason playing very well. In the team's win over the Steelers last week, Manning and wide receiver Victor Cruz played on the same page and were in totally in sync. They are hoping that their connection in the preseason will carry over to the regular season. The Giants will find out on September 8th in their first game. To buy a Giants ticket for the 2013 season, go to http://www.NewYorkGiants-Tickets.com. This site has the lowest prices on the web for Giants tickets because no service fees will ever be charged! Customers that visit the site can also use the easy read schedule to find a game, and talk to other fans in the Giants fan hub. Visit the site now and don't be late to your game at MetLife stadium.