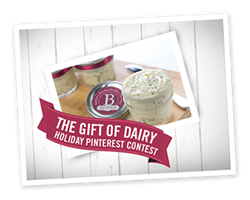 St. Paul, MN (PRWEB) November 13, 2013
Families gathering for a meal or hosting a celebration this season have a resource for recipes, entertaining and gift ideas on Pinterest. Midwest Dairy Association, which works on behalf of more than 9,100 dairy farm families across 10 states, recently launched The Gift of Dairy Holiday Pinterest Contest to help share ideas and recipes about gifting dairy this holiday season. One lucky pinner will be randomly selected to win a $250 grocery store gift card and Midwest Dairy prize package ($30 value) to help provide family, friends or even strangers in need, with the gift of dairy. The contest is open to residents of Midwest Dairy's 10-state area and runs through Dec. 9, 2013.
To enter The Gift of Dairy contest:
1. Complete The Gift of Dairy Holiday Pinterest Contest form.
2. Follow Midwest Dairy on Pinterest by clicking "Follow All."
3. Repin favorite holiday recipes, dairy-themed entertaining tips and gift ideas using The Gift of Dairy Holiday Contest board for inspiration.
Whether cooking a meal, hosting a party or giving a tangible gift, dairy is a sweet and savory way to celebrate the season. Midwest Dairy's Gift of Dairy contest board features a variety of ideas to help you plan ahead for the holidays, including:

Gifting: Sage, rosemary and thyme flavored butter is great as a savory, mouthwatering gift — the lucky recipient can serve it with veggies or warm bread.
Entertaining: Use a wine and cheese pairing guide to help serve a dynamic duo to guests.
Serving: The recipe to deliver holiday cheer includes red and green Antipasti Holiday Skewers.
For more delicious dairy recipes and to read stories from Midwest dairy farm families, visit DairyMakesSense.com.
###
Midwest Dairy Association® is a non-profit organization funded by dairy farmers to build demand for dairy products through integrated marketing, nutrition education and research. Midwest Dairy is funded by checkoff dollars from dairy farmers in a 10-state region, including Minnesota, North Dakota, South Dakota, Nebraska, Iowa, Illinois, Missouri, Kansas, Arkansas and eastern Oklahoma. For more information, visit MidwestDairy.com. Follow us on Twitter and find us on Facebook at Midwest Dairy.