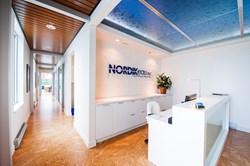 Glass has long been a key element in architectural design, favored for its natural beauty and its ability to transport or transform light.
(PRWEB) December 19, 2013
ThinkGlass announced today that they have debuted a new category of architectural applications for their glass product line. Glass ceilings made with ThinkGlass are the latest offering from glass master Michel Mailhot.
Glass has long been a key element in architectural design, favored for its natural beauty and its ability to transport or transform light. Often the elements are glass walls, translucent windows with artistic colors, glass bridges or glass countertops. But we rarely see glass ceiling applications.
Architects and designers appreciate ThinkGlass' glass designs for their versatility and unique properties. With its vast array of textures and artistic movements, ThinkGlass' creations will dramatically improve any architectural design and create a special attraction element.
Recently ThinkGlass was called upon to create an impressive water-like ceiling made of glass. The architects at MLS & Associates wanted to echo the feeling of being under water for the reception area. The glass had to have the translucence of water but also the intricate way it interacts with the light, such as how surface waves distribute light to the bottom in shimmering peaks. The solution to this poetic, bold and innovative architectural element was to use great panels of glass.
The glass for the ceiling was thermofused over a hand-made texture called Granula, one of many textures available at ThinkGlass. The richness and almost random nature of the handmade creation makes each of them unique pieces, yet similar enough to work together as a whole.
To continue with the under water metaphor, the corridor looks like being under a wood deck and the cork floor was a reminder of sea floor while the walls are pale like ocean foam.
About the project:
Design by Laurie Marchand, Architect, MLS & Assoc. - Photo by Geneviève Lagrois
++
About ThinkGlass
The ThinkGlass story began in 1999 in an empty room under the leadership of two creative individuals who were passionate about beautiful glasswork. Today, the company is one of the most successful glass design and manufacturing studios in the world with a shop that encompasses more than 30,000 square feet, 27 employees and 21 state-of-the-art, custom made ovens.
ThinkGlass is still headed by its two original founders – glass master Michel Mailhot who is the artistic soul of the company, and Bertrand Charest, a certified engineer and company president. Together with their talented team, they produce all manners of glass masterpieces, from residential kitchen to bath- room vanity countertops and backsplashes to fantastical sculptures, wall murals and floor tiles, and even large-scale commercial projects for restaurants, nightclubs and offices.
ThinkGlass quickly became a leader in the thermoforming industry by pioneering a versatile technique that allows the creation of new or repetitive textures. This process allows the creation of glass slabs without thickness constraints opening the door to all kinds of design possibilities. All ThinkGlass creations are made from 100% recyclable glass using sustainable practices and without the use of any adhesive or sealant potentially containing harmful volatile organic compounds (VOCs).
For more information about ThinkGlass products, visit thinkglass.com or call 1-877-410-4527.