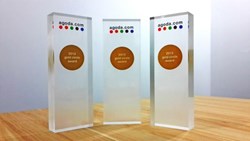 Agoda.com has announced its Gold Circle Award winners! Given to hotels that show a commitment for the unique business of online booking, they a mark of excellence in an extremely competitive industry.
Singapore (PRWEB) December 11, 2013
Agoda.com, Asia's leading hotel booking site and part of Nasdaq-listed Priceline Group (Nasdaq:PCLN), has announced the recipients of its prestigious 2013 Gold Circle Awards, given to hotels that exemplify the best qualities of the online hospitality industry.
Now in its fifth year, the Gold Circle Awards are given to industry-leading hotels who work with Agoda.com to meet the unique requirements of the online booking industry. As online commerce and internet penetration has grown, the industry has continued to evolve at a steady pace, making fast, convenient online hotel booking available to more people than ever before.
Recipients of the Gold Circle Award were chosen based on several criteria, among which were an aggregate customer review score of 7.5, savvy utilization of Agoda.com's custom-built Yield Control System (YCS), consistently competitive pricing, and for showing an understanding of the complex business dynamics that define the online hotel industry.
Commenting on this year's awards, Mr. Errol Cooke, Vice President Global Hotels at Agoda.com said, "The Gold Circle Awards are an established indicator of industry excellence, and recognize a commitment to ensuring that online booking offers the fastest, easiest way to book accommodation worldwide. We are delighted to give these awards to our hotel partners to close out a fantastic 2013, and eagerly look forward to expanding our relationship in the future."
When guests at any of this year's 661 winners see the Agoda.com Gold Circle Award displayed at their hotel, they can be assured that they are staying at a property that operates to industry best standards, and one that takes great care to ensure a smooth and pleasant experience for its guests.
Awards will be distributed to the winners in early 2014.
To see the full list of recipients, broken down by country and city, please visit the Agoda.com press center here: http://press.agoda.com/news/2013/12/11/agodacom-announces-winners-of-the-2013-gold-circle-award.html.
To connect with Agoda.com for special deals on hotels worldwide, please visit our website at http://www.agoda.com. Like us on Facebook at http://www.facebook.com/agoda or follow us on Google+ at http://plus.google.com/+agoda.