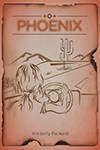 Dallas, TX (PRWEB) August 01, 2013
The Texas Association of Authors, a nonprofit organization committed to promoting and supporting Texas authors, awarded North Texas novelist, Kimberly Packard's debut novel, "Phoenix" as the winner in the 2012–2013 General Fiction category. Packard will be honored at a dinner in Austin during the Texas Book Festivalin late October.
Phoenix, published by GoodMedia Press, a Dallas-based boutique, indie publishing house, is the story of Amanda, Alex and Shiloh, three individuals tied together by two crimes committed thousands of miles and ten years apart, with each character seeking redemption and forgiveness for previous transgressions.
In the story, Amanda Martin boards a bus in the middle of a cold Chicago night with no luggage and only two thoughts: get the heck away from the crazed gunman who obliterated her office, and locate the man responsible for her indictment—and make him pay.
The small, fictional Texas town of Phoenix becomes Amanda Martin's refuge as she assumes a new identity to rediscover who she was before all the power and money changed her. She intends it to be a temporary stop before searching for the ex-boyfriend who ensnarled her in his securities fraud scandal. Unexpectedly, the flirtatious advances of a handsome cop cause her to struggle with two powerful, competing urges: build a new life there with him, or pursue personal vengeance. Uncovering a forgotten murder ignites Amanda's desire for redemption, while also driving a wedge in her new relationship and putting her in danger from two people who will stop at nothing to keep the case cold.
The book is available through Amazon and Barnes & Noble in both print and eBook format, and on iBooks. The paperback retails for $17.95 and the eBook is $9.99.
Kimberly Packard is a seasoned public relations professional with nearly 15 years of marketing communications experience. She hails from Bonham, Texas, and is a graduate of the University of North Texas with a degree in journalism. She resides in Colleyville with her husband and is the vice president of communications for the North Texas Commission.
About GoodMedia Press
GoodMedia Press is a boutique, indie publisher of books and other media that promote peace and social justice as well as select works of fiction from local authors. The primary focus of GoodMedia Press is to bring rich and actionable content that serves to elevate the human experience for all people.
The mission of GoodMedia Press is to actively and passionately promote peace and social justice through the written word. Learn more at http://www.goodmediapress.com.
About the Texas Association of Authors
Texas Association of Authors  is the only organization in Texas that's focus is to promote the authors within the great state of Texas itself. Texas Association of Authors leverages the knowledge and expertise of many different authors to help promote others within the world of reading and writing. Lean more at http://www.txauthors.com.