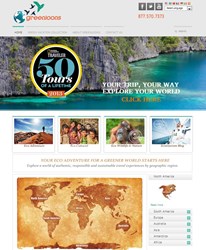 It's a great resource for learning how to reduce the impact of your travels as well as searching through a wide selection of genuinely green vacations that are socially aware and unforgettably awesome.
Vienna, Virginia (PRWEB) November 12, 2013
Global ecotourism concierge, Greenloons, a leader in family eco travel experiences, has just launched an innovative website designed to make the overall process of finding a responsible and customized family travel experience to the Americas, Europe, Africa and other regions simpler and more inspiring.
With trips as exotic as Botswana and as familiar as Mexico, the website features easy-to-use navigational tools that highlight sustainable travel experiences focusing on cultural immersion, culinary delights, nature & wildlife activities or heart-pumping adventures. In addition, visitors can choose from a luxurious accommodation to a more rustic setting - making ecotourism accessible for every taste.
Filled with exceptional travel photography and engineered to make it easier to navigate on mobile and tablet devices, Greenloons offers a wide variety of customized travel itineraries offered by eco-certified guiding companies and lodges around the world.
"By compiling exclusive listings of tourism businesses that have been independently verified to benefit communities socially, economically and environmentally, Greenloons enables transparency and accountability in the green travel industry", said Irene Lane, founder and president of Greenloons. "We are thrilled to move forward with the introduction of a new, modernized website and have high expectations for the ease it will bring our customers."
Additional features of the new website include helpful videos, infographics, tips and articles about the eco destinations as well as information about eco-certifications and steps tourism companies can take to become more sustainable.
About Greenloons
Greenloons is a premier online travel resource dedicated to inspiring people to think different, be different and travel different – in ways that help to ensure a more sustainable planet. In addition to being a 2013 recipient of National Geographic Traveler magazine's 50 Tours of a Lifetime, Greenloons is an advocate of social empowerment, financial viability and environmental preservation connecting mindful travelers with unique and eco-certified travel experiences all over the world.