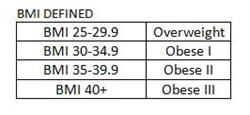 Shelton, CT (PRWEB) November 07, 2013
In February 2012, Griffin Hospital implemented the Medi-Weightloss® Corporate Wellness Program as a benefit to employees. In October 2013, an analysis was conducted to determine the amount of money Griffin Hospital saved.
Cost savings were calculated using the CDC's LEAN Works! Obesity Cost Calculator. Cost savings include medical expenditures and the dollar value of increased absenteeism at Griffin Hospital resulting from obesity. The savings verify that healthy weight employees cost less than obese employees.

Prior to starting the Medi-Weightloss® program, estimated medical costs attributed to Griffin employees with an overweight or obese BMI totaled $162,600.
After less than two years, these same employees estimated medical costs decreased to $114,200, resulting in a cost savings of $48,400 for the hospital.
Along with savings for the hospital, the employees have seen vast improvements in their overall health including weight reduction and improvements in blood pressure:

They had an average weight loss of 20.4 pounds.
59% of employees with an Obese III classification achieved obese I or II.
70.6% of Obese II employees achieved Obese I or normal weight.
72.2% of Obese I employees achieved normal weight.
39% of Overweight employees reached a normal weight.
62% of prehypertensive patients reduced their diastolic blood pressure readings to normal.
90.9% of stage one hypertensive patients reduced their diastolic blood pressure to prehypertensive or normal.
100% of stage one and two hypertensive patients reduced their systolic blood pressure readings to normal.
The Medi-Weightloss® Corporate Wellness Program is free for companies to implement and offers discounts to employees, on-site wellness workshops with enrollment, and HIPAA-compliant reporting to the employer.
About Griffin Hospital
Griffin Hospital, located in Derby, Conn., is a 160-bed acute care community hospital serving more than 107,000 residents of the Lower Naugatuck Valley Region of the state. Griffin Hospital also serves as the flagship hospital for Planetree, an international leader in patient-centered care, and has received national recognition for creating a facility and approach to patient care that is responsive to the needs of patients. Many healthcare facilities around the world send visitors to Griffin Hospital and incorporate its concepts into their healthcare models. Griffin Hospital is a not-for-profit, tax-exempt subsidiary of the Griffin Health Services Corporation.
About Medi-Weightloss®
Established in 2006, Medi-Weightloss® offers a physician-supervised weight loss program known as "The One That Works!" Physicians and medical professionals provide individualized care based on patients' goals, health, and medical history. The program includes weekly consultations with a member of the medical team that focus on nutrition, lifestyle, and exercise. Education is provided on how to lose weight in the real world using real food- without prepackaged meals. Patients learn how to keep weight off through a specialized Wellness Phase.
In addition to a weight loss programs for adults resulting in over 2.6 million pounds lost, Medi-Weightloss® offers specialized weight loss programs for adolescents and diagnosed diabetics.
The Medi-Weightloss® Franchise opportunity allows physicians and investors to offer the nation's premier individualized physician-supervised weight loss programs. There are over 80 locations in the United States with two opening in the Middle East in 2014. The company also offers Corporate Wellness programs, Exercise equipment, and Signature Supplements.
CT Contact:
Medi-Weightloss® has three locations in Connecticut.
330 Bridgeport Avenue, Shelton, CT 06484
677 South Main Street, Cheshire, CT 06410
109 Boston Post Rd, Orange, CT 06477
To learn more about the programs available or to discuss how a Corporate Wellness Partnership may assist your company, call Christina Anderson at 813.228.6334 x309 or visit http://www.mediweightloss.com.