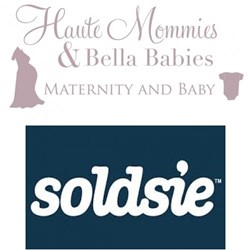 Facebook and F-commerce has proven invaluable to Haute Mommies and Bella Babies, consistently driving a steady stream of customers on-line and to the boutique.
Houston, TX (PRWEB) August 27, 2013
Darcy Santala owner of Haute Mommies and Bella Babies Maternity & Baby boutique announced today that it has implemented the F-Commerce Solution Soldsie to facilitate Facebook Commerce Transactions with its 15k+ fan base via the store's Facebook Fan Page. The move simplifies the process of fans purchasing flash deal (sale items) posted by the store as available for sale through the social media platform. Soldsie is a social commerce app that enables users to claim items posted as available for sale by the store by simply posting "sold" in the comments. Once a buyer claims an item by posting "sold", the application automatically generates an invoice that is simultaneously emailed to the customer and posted on the customers "My Orders" history. The invoice is then accessible for immediate payment on the stores fan page using either PayPal or WePay; shoppers don't ever have to leave the stores Facebook page to complete a secure transaction.
Haute Mommies and Bella Babies, voted best maternity store in Houston 2013 on A List Houston, is a maternity and baby boutique specializing in unique maternity and baby clothing, gifts, accessories and gear. The brick and mortar location in the Clear Lake neighborhood of Houston opened in November of 2011. The traditional e-commerce store http://www.HMandBB.com began operations in January of 2012. Additionally, the company has been at the forefront of the growing F-Commerce movement opening its Facebook Storefront in early 2013. On average, the store posts about a half dozen "flash sales" a day.
Facebook Commerce applications like Soldsie capitalize on social media norms of commenting on status updates and the viral newsfeed effect. F-commerce transactions through Soldsie can be easily executed on computers, tablets and smart phones.
Santala stated "F-Commerce levels the playing field for the little guys, it affords us the opportunity to reach markets that we otherwise would not have access to."
When discussing the new application and the impact on her store's business Santala said, "The store has had a very robust Facebook flash sale business for months now and Soldsie has made the process of managing the transactions from claim to shipment so much better from our customer's perspective, as well as ours. Before implementing Soldsie, customers would have to post their email addresses in the comments and we would manually create individual PayPal invoices in response to customer requests for items. Issues would arise around who claimed an item first and if someone didn't pay for an item we would have to try and dig back through old posts to see if someone else wanted to waitlist for that item. Soldsie timestamps each claim as it comes through and automatically waitlists claims in excess of available inventory, if someone doesn't pay for a claimed item within 48 hours the application automatically cancels the invoice and initiates an invoice for the next waitlisted person."
Haute Mommies and Bella Babies looks forward to continued F-Commerce success with the assistance of the So41ldsie app. Visit the store on-line, on Facebook or in person at 477 Bay Area Blvd Houston, TX 77058.