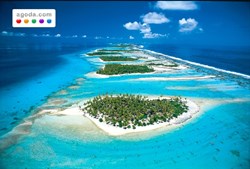 French Polynesia's Hawaiki Nui Va'a boat race is a major event in the island paradise. Taking part over 3 days, it's a fantastic way to mix a vacation with a unique cultural event.
Singapore (PRWEB) September 18, 2013
Agoda.com, Asia's leading hotel booking site and part of Nasdaq-listed Priceline Group (Nasdaq:PCLN), is showcasing a number of indulgent hotels in French Polynesia, the remote and beautiful Pacific Island nation, to celebrate one of the region's most famous and grueling events – the annual Hawaiki Nui Va'a boat race, which this year will be held from 6 – 8 November.
Polynesian culture is often recognized but seldom celebrated outside of the islands where it originated, and this race is a great opportunity to combine a world-class vacation with a unique sporting event steeped in tradition. Indeed, the sport is borne of the very same activity that led to permanent settlements on these extremely remote islands. Approximately 2,500 miles from both Hawaii and Auckland, New Zealand, early Polynesian settlers arrived here in special outrigger boats – narrow canoes with a stabilizing float on the side – called va'a in the local language.
One doesn't have to try hard to imagine the skill and stamina it took to island-hop across thousands of miles of ocean in relatively small boats, and the Hawaiki Nui Va'a race is a modern reflection of this feat. The race is performed between four islands over three days: the first leg is a 45km route from Huahine to Raiatea; the second is a 22km route from Raiatea to Tahaa; and the third and final leg is a 58km route from Tahaa to Bora Bora. Each boat has six rowers, including the captain who coordinates his team and calls out for adjustments based on changing weather and water conditions. Each team rows mightily as they test their limits against the hot sun, rolling waves, strong currents and dangerous reefs around each island.
The race is a huge event locally, where many thousands turn out to cheer on their favorite team, with previous years hosting international crews from Germany, France, New Zealand, and California. Live television covers the event for those who can't make it, and once the race is over – almost always a suspenseful, all-or-nothing sprint to the finish line – there is a large, boisterous party on Matira Beach celebrating the strength and spirit of all the teams that took part. Of course, one doesn't have to race to enjoy the festivities, and visitors are invited to take part in the feasts and partying that is done to celebrate.
While remote, getting to French Polynesia is relatively easy; many airlines fly into Tahiti's Faa'a International Airport, and from there Air Tahiti and local ferry operators connect to the many islands in the area.
Agoda.com has chosen the below hotels based on their reputation for quality and customer care. That, combined with the stunning scenery and energetic boat race, make a trip to French Polynesia, one that should not be missed.
Le Taha'a Island Resort& Spa, Tahaa 5*
Stay for at least 7 nights and enjoy a 50% discount. Expires 31 March, 2014.
Royal Tahitien, Tahiti 4*
Stay for at least 4 nights and enjoy a 20% discount. Expires 31 March, 2014.
Radisson Plaza Resort Tahiti, Tahiti 4*
Stay for at least 3 nights and enjoy a 20% discount. Expires 30 November, 2013.
Legends Resort Moorea, Moorea Island 4.5*
Stay for 4 nights and only pay for 3. Expires 15 February, 2014.
Opoa Beach, Raiatea 3*
Stay for a minimum of 3 nights and enjoy a 10% discount. Expires 17 October, 2013.
Moorea Pearl Resort & Spa, Moorea Island 4*
Book before 18 October 2013 and enjoy a 25% discount. Must stay between 1 November 2013 and 31 March, 2014.
Pearl Beach Resort, Tikehau Atoll 4*
Book before 18 October 2013 and enjoy a 25% discount. Must stay between 1 November 2013 and 31 March, 2014.
To connect with Agoda.com for special deals on hotels worldwide, please visit our website at http://www.agoda.com. Like us on Facebook at http://www.facebook.com/agoda or follow us on Google+ at http://plus.google.com/+agoda