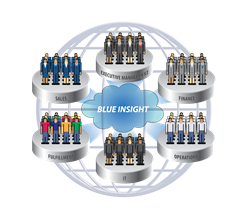 We calculated an annual number based on experience thus far and determined that MotioCI should give us savings of about $155,000 over the course of a year.
Dallas, Texas (PRWEB) October 29, 2013
The IBM Business Analytics Center of Competency (BACC) manages IBM's enterprise-wide business analytics environment and standardizes processes which guide adopters to efficiently deliver business analytics solutions.
The BACC oversees IBM's internal business analytics (BA) strategic roadmap which involves centralizing its BA infrastructure, reducing implementation and operational costs, and evolving streamlined BA processes and practices. Over the past several years, the IBM BACC has consolidated hundreds of departmental BI installations into a single production Cognos platform hosted on a massively scalable private analytics cloud, named "Blue Insight." By mid-2013, the population of Blue Insight users had grown to include over 200 globally diverse business teams comprised of over 4,000 Cognos developers, 5,000 testers, and over 400,000 named users. Blue Insight was hosting over 30,000 Cognos report specs, drawing data from over 600 different source systems, and servicing an average of 1.2 million report executions each month. As the adoption rate of the Blue Insight platform continued to accelerate, the BACC operations team found itself spending more and more time servicing administrative requests from these Cognos business teams. Frequent administrative requests involved: 1) Content promotions- the promotion of Cognos content between environments, 2) Data recovery – the restoration of accidentally deleted Cognos content, 3) Issue resolution – helping with root cause analysis of defects in the authored BA content, etc.
After an in-depth review of commercial options for automating version control and content deployment in Cognos environments, the IBM BACC selected MotioCI as the solution for streamlining many of the day-to-day Cognos administrative tasks that were devouring so much time from the operations team.
The key benefits the IBM BACC has gained from implementing MotioCI include: 1) Reduced Cognos administration and support costs, 2) Balanced governance and autonomy, 3) Improved development processes by enabling Agile BI methods, and 4) Governed self-service BI.
"We calculated an annual number based on experience thus far and determined that MotioCI should give us savings of about $155,000 over the course of a year. We hope to be able to expand our savings upwards as we transition all of our business teams to the self-service model," said Meleisa Holek, Manager, IBM Business Analytics Enablement Team.
In recent years, IBM has transitioned many of its internal projects to a more agile approach. Key tenants of this approach include the enablement of rapid deployment of content, a tight feedback loop with end-users, and the avoidance of IT bottlenecks. Moving to the "self-service" model has enabled IBM's own Cognos authors to promote their Cognos content in a controlled and repeatable fashion, all the while keeping their development cycles moving at the brisk pace that they need.
"With the Cognos product alone, there is no easy way to allow different teams to manage themselves in a governed manner - where they're prevented from impacting other business teams," said David Kelly, Project Manager, IBM BACC. "MotioCI has helped us move along the self-service roadmap and we're growing quite rapidly. By the end of this year, most of our projects will be able to do much of the management themselves - from promotions to scheduling to security to whatever they want to do within their space. This will allow the operations team to focus on some of the other service areas we're looking to expand."
The full case study on IBM BACC's success with MotioCI is available for download.
About Motio
Motio is an IBM Premier Business Partner offering a suite of products that are designed to streamline Cognos and ensure that BI implementations perform in their ideal state. Motio's software portfolio includes MotioCI, a solution that provides version control, release management and automated testing for Cognos, and MotioPI, a free tool designed to ease cumbersome tasks in Cognos. Motio's product suite aims to assist Cognos developers, empower Cognos administrators, enrich the experience of BI consumers, and simplify the management of Cognos installations. Motio strives to develop software solutions that increase the velocity of BI development teams by guiding them to "work smarter" and enabling them to produce more consistent, accurate and performant BI content in less time.