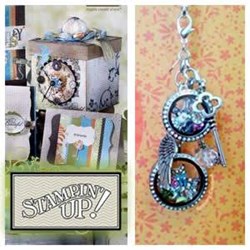 (PRWEB) November 20, 2013
Amanda Woodward is proud to announce the creation and launch of her new Christian-based website venture, http://www.IFinallyGotItRight.com. The website offers a wide variety of options for Stampin' Up! cardmaking and scrapbooking supplies in addition to Origami Owl custom jewelry items. Woodward has been a Stampin' Up! demonstrator for over seven years and is also an Origami Owl designer, so she has a great deal of experience and knowledge regarding the products that are offered on her website.
There are many excellent Stampin Up'! and Origami Owl products featured within the merchandise of IFinallyGotItRight.com. There is an envelope punch board that creates sixty-six different-sized handmade envelopes, alongside card dies, stamp carving kits, and photopolymer stamp sets. In celebration of Stampin' Up!'s twenty-fifth anniversary, the website will also be featuring many of the 'Best of 25 Years' stamp sets.
New stamp sets are added to IFinallyGotItRight.com every month. In addition to this, Woodward plans to add some retired Stampin' Up! products that are no longer easily available and she will also be adding miscellaneous scrapbooking and cardmaking supplies, alongside a large amount of Origami Owl jewelry products as well.
To complement the main website, Woodward is also launching a blog located at http://www.IFinallyGotItRightProductsInfo.com. The blog will feature topics related to card and scrapbooking ideas that Woodward has come up with for club and classes that she offers through Stampin' Up!, as well as ideas related to Origami Owl jewelry. By providing customers with interesting ideas, she hopes to guide them towards making informed decisions when picking out the products they need from the online store.
About the Company:
IFinallyGotItRight.com – a division of I Finally Got It Right, Inc. – is owned and operated by Web entrepreneur Amanda Woodward. She also offers clubs and classes in southern Illinois for Stampin' Up! and does jewelry bars with Origami Owl.
Amanda Woodward
http://www.IFinallyGotItRight.com
(217) 833-2023
iePlexus, Inc.
http://www.iePlexus.com