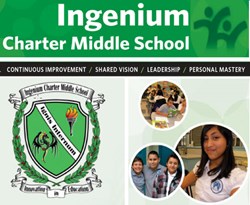 In our Ingenium Learning System, the kids are aware of data on an ongoing basis and are really clear about where they are and where they need to go.
Los Angeles, CA (PRWEB) August 16, 2013
A new charter middle school in the San Fernando Valley offering students "flipped classrooms" that feature teacher-directed lessons at home through interactive videos and other multimedia and digital content opened its doors August 7, 2013.
Ingenium Charter Middle School (ICMS), located on the Columbus Middle School campus in Canoga Park, offers an innovative "hands-on" approach to education that provides students with tablet computers to take home enabling them to learn at their own pace and track their academic success. "Homework" is completed in classrooms with teacher and peer assistance, creating a more collaborative and engaging classroom environment in which teachers can spend more time one-on-one with each student. "At ICMS, students learn precisely where they are in their academic journey, set their own learning goals, and have the tools, resources and quality instruction that they need in order to attain their goals," said Glenn Noreen, Founder and President of Ingenium Schools, a charter school management organization.
"Flipped" classrooms are perhaps a novelty in L.A. area schools, but not so much in other school districts. Since 2009, Ingenium Schools has used its Ingenium Learning System™ (ILS) – a performance-based educational program focusing on the needs of each child through a student-centered environment – to provide high-quality instruction to youth in some of Los Angeles' most ethnically diverse and socio-economically disadvantaged communities. The ILS model, which utilizes continuous improvement, shared vision, leadership and personal mastery as the foundation for its program, is based on the Re-Inventing Schools Coalition (RISC) program developed at Alaska's Chugach School District. In 2001, the program won the Baldrige Award, the nation's highest recognition for organizational performance excellence.
Encouraged by the success of its program and requests from parents who see marked and consistent improvements in their children's education, Ingenium Schools opened its third school - ICMS. Ingenium's two other schools, Barack Obama Charter School (BOCS) in Compton and Ingenium Charter School (ICS) in Canoga Park, are both high-performing elementary campuses. Using the ILS, BOCS's Academic Performance Index (API) score increased by 175 points during the 2011-2012 school year, a notable achievement. ICS's first and second year API scores were both over 800, very unusual for a new Title I charter school. "In traditional schools, data is hidden and closed inside the gradebook," said Chaleese Norman, Principal at Ingenium's Barack Obama Charter School (BOCS), an elementary in Compton. "In our system, the kids are aware of data on an ongoing basis and are really clear about where they are and where they need to go," added Norman.
Ingenium Schools serves communities afflicted by poverty and other key factors that are often directly associated with student low academic performance. Almost 80% of ICS and 91% of BOCS students qualify for free or reduced price lunches, 10% to 25% of students at both schools are English Language Learners. Yet, in spite of these challenges Ingenium Schools students are succeeding – largely as a result of the Ingenium learning culture. According to ICMS' Principal, Rachel Garfield, the key to nurturing student academic success is "to foster choice and a sense of self-efficacy that will allow students to actively partake in their education and achieve self-directed goals." Founder Glenn Noreen agrees; "at Ingenium, we guide students toward setting and meeting their own learning goals by mastering the standards they need to learn in order to advance to the next learning level. Middle school is a crucial time in a student's personal and academic life, so we look forward to the amazing transformations that will take place in the ICMS classrooms."
For more information about Ingenium Charter Middle School, call (818) 456-4590 or visit our website at http://www.IngeniumCharterMS.org/. For more information about Ingenium Schools, visit our website at http://www.IngeniumSchools.org/.
About Ingenium Charter Middle School
Ingenium Charter Middle School motivates and engages students in their own education, molding them into global leaders. ICMS develops a school-wide shared vision that is inclusive of all stakeholders, encourages leadership, focuses on personal mastery of standards, and is committed to continuous improvement.