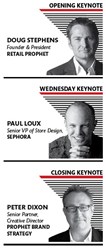 Cincinnati, OH (PRWEB) July 16, 2013
Retail design leaders from Sephora, Microsoft and other specialty retailers top the speaker roster for VMSD magazine's 2013 International Retail Design Conference, slated for September 17-19 in Vancouver, British Columbia.
Paul Loux, Senior VP of Store Design for cosmetic and fragrance specialty retailer Sephora, will keynote the annual conference, discussing the brand's integration of technology, exploration and interactivity into its 3,300+ locations and online store.
Other keynoters include Toronto-based retail futurist and business advisor Doug Stephens, author of The Retail Revival: Reimagining Business for the New Age of Consumerism, and retail industry veteran Peter Dixon, Senior Partner & Creative Director, Prophet Brand Strategy.
Stephens will outline "The Future of the Retail Store," from staffing and store design to technology and marketing, while Dixon will address the challenges of translating retail brands in foreign markets in "Your Brand Abroad: Adventures in Cross-Cultural Retail."
International expansion—particularly to growth markets such as Canada and China—is a recurring topic in the 2013 IRDC program, themed "Culture Shop" by conference planners. More than 30 speakers, representing retailers such as Limited Brands and Vancouver-based lululemon athletica, will share experiences and insights on understanding shopper cultures, maintaining the essence of a brand and building community around a store.
Other highlights of the 2013 program include networking roundtable discussions, sponsor/client case studies, the Iron Merchant Visual Merchandising Challenge, guided tours of the Vancouver retail scene and more.
Conference registration is underway at irdconline.com. Hotel reservation cutoff at the Four Seasons Hotel Vancouver is August 16, 2013.
ABOUT VMSD
Cincinnati-based VMSD (Visual Merchandising + Store Design) is the leading magazine for retail designers and store display professionals, serving the retail industry since 1922. Every month, VMSD showcases the latest store designs and visual displays, presents merchandising strategies and new products, and reports on industry news and events. Learn more at vmsd.com.
ABOUT IRDC
Now in its 13th year, the International Retail Design Conference (IRDC) is the premier educational and networking event for the store design and visual merchandising community. Presented by VMSD magazine, IRDC combines educational sessions, roundtable discussions, case studies and networking events into three productive days, drawing 300+ attendees from the U.S. and abroad. Learn more at irdconline.com.