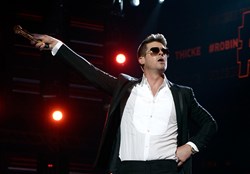 (PRWEB) October 28, 2013
Miley Cyrus, Selena Gomez, Robin Thicke, Macklemore & Ryan Lewis are just a few names of the stars that will be performing at this Winter's Jingle Ball 2013. These performers, as well as many others were announced at the Z100's Jingle Ball 2013 Official Kick Off Party that took place on October 11th, where Austin Mahone also performed some of his songs. The 2013 Jingle Ball will take place on Friday, December 13th at Madison Square Garden in New York City. Tickets to one of the biggest concerts of the year are available for purchase at http://www.Ticketmonster.com. Visit the site today before tickets are all sold out!
Z100's Jingle Ball has been celebrated for 18 years now, and still going strong. The concert will undoubtedly be one of the year's best by time it is over. With a very diverse lineup, the concert brings genres such as rap, rock, and pop to the stage. This concert will also display Robin Thick and Miley Cyrus's first performance since their one at the 2013 VMA's. A chance to catch this show live is not something music fans want to miss. Visit http://www.Ticketmonster.com for more details.
Jingle Ball is so exciting due to its star studded featured performers. It is known for staging the most featured artists of the year. This is a chance to catch all of the year's best performances, but all in one concert! What could be better? Furthermore, the concert is not only presented in New York, but there are different versions all over the country put on by different radio stations. This year, over ten different states will be presenting Jingle Ball concerts to the public. Some of these states include California, Texas, and Florida, and will include even more artists like Justin Bieber, Kesha, and Flo Rida. Ticket Monster has tons of tickets for sale for every concert. These tickets are the best value on the web, as Ticket Monster does not charge service fees. Visit the site today to easily buy 2013 Jingle Ball tickets, read the active blog, or interact on the fun social media hub. Ticket Monster makes buying tickets to all events a fun and easy process. Visit http://www.Ticketmonster.com today or call 866-217-4777.