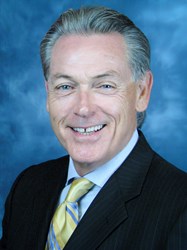 Scottsdale, AZ (PRWEB) August 23, 2013
Bill J. Bonnstetter, chairman of TTI Success Insights and Target Training International, Ltd. is pleased to announce John Hersey has been named interim president of TTI Success Insights North America. Hersey's tenure has already begun. He replaces former president Ashley Bowers, who resigned earlier this month.
"We are so pleased to have John on board as our interim president," said Bill J. Bonnstetter, chairman of TTI Success Insights North America. "John brings an amazing wealth of experience using our products as well as in the business world with his background in distribution, marketing, account management and then, of course, as an author, speaker and VAA. We're pleased to welcome him to our TTI team. He's stepped in without missing a beat."
Hersey has been a member of the TTI Success Insights' network as a Value Added Associate (VAA) for 14 years, since 1999. In addition, Hersey is a successful entrepreneur, executive, speaker, author and executive coach.
Hersey is the author of More Sales, Less Selling and Creating Contagious Leadership, which has sold 10,000 copies worldwide, and is co-creator of Contagious Leaders Coaching Club™, a multi-media system focusing on 12 Core Leadership Talents. He is the former president of the Arizona Chapter of the National Speakers Association. Hersey also served as director of worldwide marketing for Infinity2 Nutrition where he led international expansion into Mexico, Singapore, and Brazil. He was senior vice president and management supervisor for Arnold Worldwide for a decade, where he developed strategic marketing and communications plans for major national and regional advertising brands with media budgets in excess of $30 million. Hersey has directed advertising programs for major brands including Stanley Tools, Sperry Top-Siders, Bank of Boston, BASF, Cuisinart, Reed & Barton Silversmiths, and Emhart.
"I was honored to be asked to help usher the amazing team of talented individuals at TTI Success Insights North America," Hersey said. "I'm also extremely excited to have the chance to collaborate with our network of Value Added Associates and to help nurture and develop their clients and businesses, as well as welcome new VAAs to the network. I look forward to continuing the outstanding work of Ashley Bowers and building on the solid foundation of 30 years of TTI."
About TTI Success Insights
Dedicated to making organizations better through the design, education and implementation of assessment-based talent management solutions, TTI Success Insights maximizes the performance and satisfaction of employees, while increasing business results for corporations around the world. With its validated, EEOC compliant assessment tools that are free from adverse impact, TTI Success Insights operates through a global distribution network of independent consultants, coaches, speakers, trainers and strategic partners. Serving a domestic client base of Fortune 1000 companies, its international clientele exist in 90 countries worldwide. For more information about TTI Success Insights call 800-869-6908 or visit ttisuccessinsights.com. For more information about Target Training International, which creates ttiresearch.com.