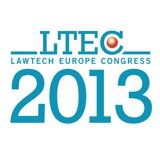 "…LawTech Europe Congress; thank you for putting on #LTEC2013 and supporting our businesses."
Prague, Czech Republic (PRWEB UK) 7 November 2013
After completing its second annual event on electronic evidence, forensic investigations, cyber security, and legal technology, LawTech Europe Congress is proud to report that over 560 delegates were in attendance. In addition, its top industry sponsors and expert speakers paid compliments to its content and organization. Here are links to the event video overview and pictures.
About the conference, owner and director Frederick Gyebi-Ababio stated, "We were very excited to exceed 560 delegates this time round and to have such positive comments about the event. We were also thrilled to have Cisco providing live streaming, ALUCID providing highly secure authenticated online access to the post event materials, and of course the introduction of the practical demo sessions."
"In addition, the conference is fostering industry development in the CEE region. LTEC intends to expand to other locations in the CEE region, including Poland, Croatia, Bulgaria, and Hungary."
LTEC2013's Sponsors also had much to say about the event.
Basis Technology, Gold Sponsor: "Thanks #LTEC2013, for a great conference. We had some very interesting conversations. Looking forward to next year."
Gold Sponsor Clio's Nagib Tharani: "I'm actually really impressed with it. It's been really busy."
ANECT/ALUCID, Silver Sponsor; "Busy from the first moment...really busy."
Fontis International, Silver Sponsor: "Thanks #LTEC for enabling and to all participants for contributing to this very lively #infoGov #eDiscovery #forensic event."
HJChapman, Silver Sponsor: "…LawTech Europe Congress thank you for putting on #LTEC2013 and supporting our businesses."
LTEC will soon be announcing the dates for its 2014 event so watch this space.
About LawTech Europe Congress:
LawTech Europe Congress' mission is to create a cutting edge legal technology educational forum that address four core areas, e-discovery, forensics, cyber security, and legal technology. These disciplines are at the forefront within organizations globally and LTEC's guiding philosophy is to embrace solutions to empower law firms, corporations, and government institutions to reduce risk, limit the potential for expensive legal exposure and to increase overall competence around these topics. Delegates will be engaged throughout our events with advanced topic presentations, panel discussion, and practical demonstrations of the latest solutions. This event strategically focuses on best practices and how they fit into upholding a high level educational structure. LawTech Europe Congress has set out to provide relevant solutions and advice to all professionals interested in the future of digital evidence, forensics, cyber security, and law office technologies.