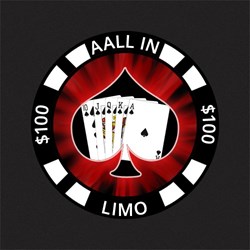 "We want to thank our clients who used our trusted and loyal transportation service."- Mike Reifeiss
San Diego, CA (PRWEB) December 30, 2013
Aall In Limo, an award-winning limousine company based in San Diego County, compiled a statistical infographic at the end of 2013 containing statistics for services provided, gallery of clients served throughout 2013.
According to the interactive infographic, Aall In Limo drove a total of 12.000 customers this year including 570 newlyweds, 5634 clients going to wine tasting tours in Temecula Valley Wine Country, 934 bachelors and bachelorettes, 57 business owners, 95 young adults heading to prom, homecoming and graduation parties, 78 people who attended concerts or events, 23 people who had their birthday party with Aall In Limo, 3788 people who went on brewery tours in San Diego County, 57 people who were picked up at the airport, 387 people who just wanted to have fun.
The limousine fleet added a total of 18.340 miles in 2013 alone:

Limo Bus 42 367 miles
Hummer 12.654 miles
Lincoln 56.333 miles
Sedan 4897 miles.
"We want to thank our clients who used our trusted and loyal transportation service," quoting Mike Reifeiss, owner and operator of Aall In Limo."Next year will be a blast. Can't wait to drive new and past clients."
Aall In Limo wishes every customer a Happy New Year and hopes to be at their service in the coming year as well.
About Mike Reifeiss and Aall In Limo
Mike Reifeiss received his business degree in 2001 from SDSU. Since then, the company he founded in 2005 became San Diego's multiple award-winning company.
Aall In Limo specializes in providing professional customer services at the best price in San Diego. The company's services include transportation to weddings, bachelor and bachelorette parties, proms, graduation parties, homecomings, concerts, business meetings and other special occasions or events. Aall In Limo also offers transportation to wine tasting tours in Temecula Valley Wine Country and brewery tours to San Diego County's finest breweries. Call 1-858-336-1894 to book your limo today!