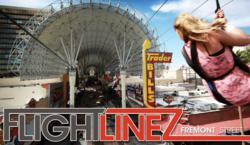 Las Vegas, NV (PRWEB) July 01, 2013
Since opening their doors in 2010 Flightlinez Las Vegas has seen over one million riders fly down their zipline downtown. If it wasn't for the continued support of everyone in Las Vegas, the surrounding areas and the tourists that flock to this fantastic city, Flightlinez would not have been such a huge success.
Had the community and city not supported their efforts, the local and national charities would not have received such generous contributions each month.
Flightlinez would like to thank the City of Las Vegas, Las Vegas Convention and Visitors Authority, Nevada Commission on Tourism, Cashman Photo and Fremont Street Experience and each and every one that has flown with us or shown us their support in one way or another. Thank You!
Flightlinez has been committed to serving the Las Vegas community by hosting charitable fundraisers throughout the year. The monthly events have been a great way to put the "fun" back in fundraising for so many charities during tough economic years. In late 2010, Flightlinez and Fremont Street Experience began hosting these monthly events and have donated more than $300,000 to various charities.
Location:
425 Fremont Street, Suite 160
Las Vegas, NV 89101
Additional Information:
Flightlinez owns and operates the zipline ride attraction located at the Fremont Street Experience. Operations will shut down at close of business hours on Sunday, June 30, 2013. Construction to remove the zipline attraction will begin immediately to make way for the continued construction of the new attraction being built on Fremont Street. Flightlinez is not the owner or operator of the new attraction currently being built.
Other Locations:
In August 2008, Flightlinez Bootleg Canyon opened to the public. Since opening over 50K riders have flown over 1.5 miles of the Mojave Desert at speeds up to 60 mph. Four separate ziplines carry guests from over 3500 feet above sea level to the base of the Red Mountain in Historic Boulder City, NV. Flightlinez looks to promote community and preserve nature. A portion of each ticket goes back to Boulder City to assist in their efforts of maintaining the park and keeping the beautiful trails and wildlife open to the public. Locals receives discounts and a Frequent Flightliner Program is available to allowing guests to Fly for Free on repeat visits. flightlinezbootleg.com I 702.293.6885
Flightlinez Venice Beach will be opening July 2013. Flightlinez is working with the city , community and local programs to assist in raising funds to clean up the public areas of Venice Beach. flightlinezvenicebeach.com
For media information, please contact:
Brina Marcus
Flightlinez
702.664.4256
brina(at)flightlinez(dot)com