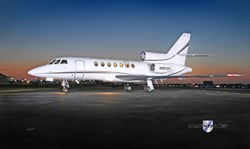 Value, transparency, and premium services including in-flight WiFi are the largest market drivers in private aviation today
Pompano Beach, FL (PRWEB) October 21, 2013
Majestic Jet, the leading operator of Dassault Falcon 10/50/900 business aircraft, announced the first ever premium fractional shares program called Falcon Shares featuring an exclusive fleet of WiFi equipped Dassault Falcon aircraft.
Designed around the entry-level consumer who enjoys unsurpassed safety, comfort, and amenities, the Falcon Shares program offers fractional ownership in a fleet of modernized Dassault Falcon aircraft depreciated to fair market valuations. "Value, transparency, and premium services including in-flight WiFi are the largest market drivers in private aviation today," says the founder of Majestic Jet, Matt Franzak. "We listened to the needs of the sophisticated private aviation consumer and delivered."
With affordable options starting at $1,000 per occupied hour, Majestic Jet is disrupting the premium fractional market by delivering uncompromising levels of safety, speed, capability, and accommodations at a fraction of the price associated with traditional programs. "Boutique providers are emerging as the dominant force in private aviation because of their ability to adapt to the evolving needs of the fractional owner," says Miles Munz, Director of Owner Services at Majestic Jet. "Launching the Falcon Shares program at the National Business Aviation Association Conference in Las Vegas is proof that premium and affordable programs are in demand."
Majestic Jet operates a fleet of Dassault Falcon business jets for charter and fractional ownership based in Pompano Beach, FL and Morristown, NJ.
For information about the Majestic Jet Falcon Shares program, contact Miles Munz at (954) 359-6500 or visit http://www.majesticjet.com. NBAA Attendees may also visit NBAA Exhibit Booth #3216. Majestic Jet is a proud ARG/US Rated Operator.