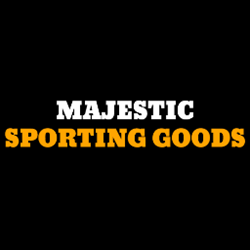 (PRWEB) October 17, 2013
Robert Hutzel is proud to announce the creation and launch of his new website venture, http://www.MajesticSportingGoods.com. The website offers a large assortment of sporting good products for many different sports that are appropriate for people of all ages. Hutzel knows that being active in sports is extremely important not only to young people for their growth and development both socially and mentally, but also for adults who are maintaining healthy lives and staying fit. Hutzel wants to help all of these people, which is what inspired him to start up his website.
There are many excellent products featured within the merchandise of MajesticSportingGoods.com. Items for sports such as football, baseball, and soccer are prominently featured on the website, alongside plenty of equipment for other sports as well. Hutzel's intention is to represent the highest quality products at the lowest prices, so that the items on his website are affordable to everyone, giving any person the opportunity to use quality products for their sports and fitness needs.
In the future, Hutzel plans to further expand the product lines that are offered on MajesticSportingGoods.com. He is currently in the process of adding sporting equipment that involves aerobic types of exercise, weightlifting equipment for people who want to work on body development, sporting-related games and toys, and other various exercise equipment. By periodically updating the website's merchandise, Hutzel hopes to encourage customers to keep coming back to the site to check out what new items have been added.
To complement the main website, Hutzel is also launching a blog located at http://www.SportingGoodsInfo.com. The blog will feature topics that will emphasize the importance of sports when it comes to overall development and fitness in regards to both mental and physical acuity, as well as information related to maintaining good health and keeping up with social activity. Hutzel will relate the products on his website to these topics because he believes that these ideas are very important in modern society.
About the Company:
MajesticSportingGoods.com – a division of Hutzel Holdings, LLC – is owned and operated by Web entrepreneur Robert Hutzel.
****
Robert Hutzel
http://www.MajesticSportingGoods.com
(602) 321-4664
iePlexus, Inc.
http://www.iePlexus.com