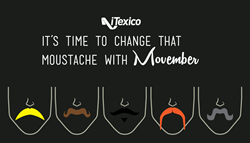 "Having this amazing group of experts in the office comes with a big responsibility to look after our team's well-being as well as the community's. That's one of the biggest reasons why iTexico decided to show its support to Movember." - Anurag Kumar, CEO
Austin, Texas (PRWEB) November 19, 2013
iTexico, an Austin based nearshore web and mobile app development company, has launched an awareness campaign to support Movember. To increase the reach of its message and increase health awareness in the tech community, iTexico is joined by Dawcons, a Mexican software development company located in Guadalajara Mexico. Both tech companies are joining forces to reach the mobile app developer ecosystem in the US and Mexico to raise funds for charity and create awareness on health care issues.
"We have many mobile app development experts at our delivery center in Mexico and we're always looking to provide them with the best health benefits out there, however there are things that only information can prevent. Having this amazing group of experts in the office comes with a big responsibility to look after our team's well-being as well as the community's. That's one of the biggest reasons why iTexico decided to show its support to Movember." -Anurag Kumar, CEO of iTexico
Several iTexico members joined the campaign and decided to clean shave their beards in support of this cause. The process consists of taking a picture of the participants before and after shaving. The pictures are uploaded onto the facebook page and for every like that the picture accumulates for the whole month of November, iTexico will donate money to a local charity.
By being part of Movember, iTexico is also using the name "Mo Bros" and "Mo Sistas" who are team members that are participating in Movember. The Mo bros & sistas of iTexico, besides shaving their beards and grow a moustache, have also become walking and talking billboards for 30 days. Through their growing efforts, they raise awareness for the issues of men's health that are often ignored,by prompting conversations wherever they go.
"Since there's no official Movember in Mexico and many of our employees are located in Guadalajara, we've decided to help out by coming up with our own version of Movember to create awareness and support health by taking pictures of the team members that have decided to join the cause. It's amazing how committed the team is and we are already seeing amazing results in fund raising. By collaborating and engaging with the community they let us know that it's very important for them to create an impact and help those in need." -Guillermo Ortega, COO of iTexico
By participating in Movember, all software developers and everyone part of iTexico's online community can help raise money for charity and spread the word on men's health awareness. iTexico is expecting to donate to several charities besides those related to prostate cancer and other men-only diseases. The company decided that any charity or special cases of people in true need will have the opportunity to receive the donation to support the local people. The decision will be made by the end of the month, after researching and selecting the causes where more help can be provided.
iTexico's Facebook page has been loaded with the pictures of their team members who are supporting Movember plus additional content about health care and it will continue to until the end of the month.
"Our Facebook page is the ideal channel to include information to reach our community of mobile app designers, testers, mobile app developers and web developers with tips and facts about men's health and prostate cancer prevention. There are facts that are too startling to ignore and that's why we are creating this awareness." -Alfonso Bañuelos, Marketing Associate & Community Manager of iTexico.
Join the cause and help the local charities at iTexico's Facebook Page and other social media channels.