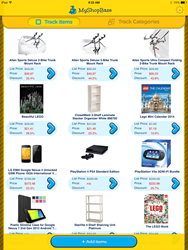 Campbell, CA (PRWEB) October 25, 2013
Just in time for the holidays, MyShopBase, a free online price tracking and alerts application, launched an iPad app that helps shoppers find the lowest prices and provides analytics and price trends over time. Within the app, shoppers can track prices and find deals across hundreds of thousands of products from major internet retailers.
Prices online can differ by location and can change daily with wild swings of up to 80% in one day. MyShopBase launched its price tracking app on iPad to bring a more personalized and interactive experience to mobile shoppers and make it easier for them to access their shopping lists so they can make more informed purchase decisions.
The MyShopBase app is built for shopping experts or enthusiasts who want to understand pricing trends, and it helps them time their purchase when the price is lowest. They can add hundreds of products to their own personal shopping list and view daily price fluctuations in easy to read charts. Shoppers can use price alerts to send email and app notifications when prices change and also track related news and video for their favorite products.
If a shopper is interested in a general category such as 'Toys','Digital Cameras', 'Shoes', or 'Cookware' then they can create a personal list of favorite categories and the MyShopBase app will provide automated reports with top deals for those categories. This makes it easy for shoppers to stay informed of trends for product categories that they are interested in. The product tracking and category tracking are integrated features in the app that help shoppers get more information for their purchase decision.