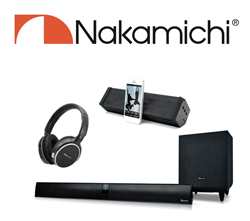 Woodside, NY (PRWEB) December 10, 2013
Just in time for the holidays, the historic consumer electronics company, Nakamichi, announces the official return of its products to the U.S. market. After a decade and a half, Nakamichi products are returning to the U.S. with a very visible 2013 rollout at Sears and K-Mart, as well as Amazon. Products include competitively priced Bluetooth headphones, the Shockwave desktop speaker, and the NK 22 wireless home theater sound bar and subwoofer. Other audio products include an array of colorful, affordable headphones and speakers of all shapes and sizes.
"We're thrilled to bring this historic brand back to the states, at prices that are literally half of what people pay for competing brands such as Beats by Dre, and Bose," says Dr. Lye, Nakamichi-USA Group CEO and Director. "There are a lot of people who remember the turntables and tape decks, such as the Nakamichi Dragon, so it's very rewarding to introduce our new line of products both to loyal fans and a whole new generation."
"Nakamichi's style and build quality is competing directly with companies such as Beats and Bose, but at about half the cost," says Dr. Lye. "Nakamichi's return to the U.S. is about making it easy for people to find gadgets that fit their wants, lifestyles, and budgets."
The 2013 Line of Nakamichi Audio Products Includes:

The All-In-One Home Theater: NK 22 Sound Bar & Subwoofer
MSRP: $449.99 - At Sears here.
The Nakamichi Sound Bar offers rich sound and sleek style with wireless convenience. It's great for watching movies, TV shows, or listening to music. The NK 22 delivers high quality sound at a price that's hard to beat. Features: Dolby Digital, 3RS True Surround HD, Bluetooth aptX, and 2.1 Channels.

The Shockwave Desktop Bluetooth Speaker. Desktop Size. Home Theater Sound.
MSRP: $68.39 - At Sears here.
From watching a movie on a laptop to streaming music from a cellphone, the Shockwave is designed to deliver an impressive aural experience, with or without wires. It even takes phone calls over Bluetooth, so you'll never miss a beat. Features: Bluetooth 2.1 + EDR, 80 dB SPL output level, Advanced Audio Distribution Profile (A2DP), Audio/Video Remote Control (AVRCP).

BT HP 01 Quality Wireless Bluetooth Headphones.
MSRP: $55.99 - At Sears here.
Enjoy a high-quality wireless listening experience with sound and comfort. From listening to music to taking important phone calls, the easy-to-tap, on-ear buttons switch between music and calls with ease. Be amazed by the sound quality and comfort of these lightweight, go-anywhere headphones. Features: Wireless, Bluetooth, Built-In Mic, and Lithium battery.
About Nakamichi
Nakamichi was founded in 1948 by Mr. Etsuro Nakamichi, and has since established itself as a trusted creator of high-quality audio products that deliver sound, style, and substance. The Nakamichi product line is driven by an intense scientific curiosity, the love of music, and commitment to uncompromising quality and performance.
Nakamichi was born from a small research institute in Tokyo, Japan that provided R&D for major brands, government entities, universities, and organizations in the private sector. The first Nakamichi product was a reel-to-reel cassette deck, the Nakamichi 1000, which quickly set the standard for top-of-the-line cassette decks. Since then, Nakamichi has contributed to various innovations in technology, such as the compact disc and similar optical memory systems, paving the way for an entire range of high-end consumer electronics.
Today, Nakamichi prides itself on relentless research and development, while delivering some of the world's best products to people who appreciate sound at its highest quality.
About WOW Technologies (Singapore) PTE LTD
WOW Technologies, founded by Dr. Anthony Lye, is a company dedicated to designing and producing quality consumer electronics and technology products known for their precision engineering and superb craftsmanship. WOW Technologies is pleased to be the official brand guardian and licensee of Nakamichi in North America, South America, and Germany.
WOW Technologies is based in both the United States and Singapore, and has been delivering audiophile-grade products that delight and wow since 2003.